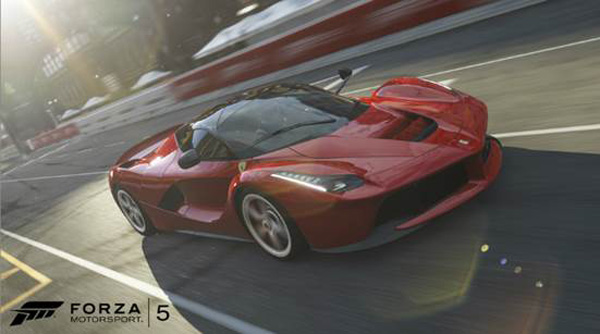 The Forza Motorsport franchise from Turn 10 Studios has always done a lot right by its fans, and one thing it has managed to do exceedingly well is provide a tonne of support after release, usually in the form of more cars for players to race around in. The Microsoft and Xbox One exclusive Forza Motorsport 5 will be no exception to this rule, and will be providing an unprecedented amount of post-launch support to players.
Starting at launch (November 22nd), and dropping on the first week of the month from January onwards, players will be given access to a new Car Pack. Each Car Pack will have an additional 10 cars available for purchase and download. If you are a fan of a specific make or model of car, you can download them one at a time, while the racing enthusist will be able to purchase a Car Pass. The Car Pass is basically a Season Pass, and gives you access to every car that will be made available.
The first pack, available on launch day will be the LaFerrari Car Pack, and will give people world wide the first chance ever at jumping behind the wheel of Ferrari's long-awaited new hypercar. Powered by an innovative 950-hp hybrid engine and limited to 499 global production units, when released, the LaFerrari will be one of the fastest and rarest cars in the world, and "Forza" fans will get the unique chance to drive the digital experience before anyone else.
Forza Motorsport 5 will be releasing alongside the Xbox One console later this month on November 22nd, and we recently were able to go hands-on with the game, as well as interview the developers. So in the lead up to the next console generation be sure to stay tuned to Capsule Computers for all the Forza news as it becomes available.