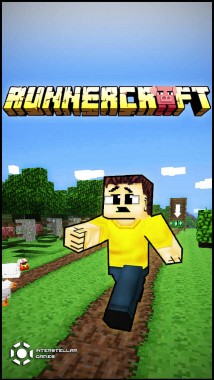 A new iOS game titled Runnercraft has been announced and released by Interstellar Games, LLC.
Runnercraft runs off the basis of the incredible popular Minecraft and it's done successfully. With attention to details and systems, the developers have transformed the open world into a classic endless runner game.
Race your protagonist through a lovingly crafted environment replete with familiar hazards and a wide variety of collectible materials.  Animals seen form the Minecraft such as pigs, cows, sheep and chickens can be dodged or harvested as you travel through the blocky world.
We also see the well-known crafting system in Runnercraft. The function can be used to create and manipulate items into useful tools and power-ups that can be than used for buffs and powers.
Yet another similarity to Minecraft that fans would recognise in Runnercraft is the complete seed generation system.  Seeds guarantee that you will not only have your own personal best to contend with, but includes a feature to increase replayability and exponentially of the game, challenges are extended to a billion possible configurations that can be revisited over and over again.
Runnercraft is available now via the iTunes store for $2.99, download it here.