Disney Interactive has released Pirates of the Caribbean: Isles of War, a new, multiplayer, online "Facebook experience founded in the lore of the hit films". Players will engage in real-time naval combat against their friends and AI pirates as they sail across the Caribbean trading and plundering to your hearts content. Do you have what it takes to be the greatest pirate in all of the Caribbean. Players who are fans of the Pirates of the Caribbean franchise will notice Jack Sparrow, Davy Jones, Hector Barbossa, and other lively sorts will be featured in Pirates of the Caribbean: Isles of War.
Finding adventure on the high seas is a dangerous, but possibly prosperous, proposition. Victory in combat will bring spoils, while defeat will force the player's fleet to return to base for repairs, although a ship will never be truly destroyed. As players build stronger bases and fleets, more powerful enemies with greater rewards can be unlocked and discovered by truly intrepid pirates.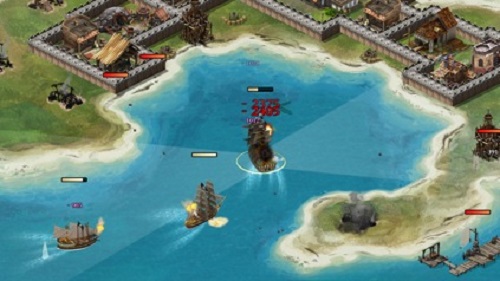 Features:
Build multiple fleets and battle enemies in five-on-five, real-time strategy, naval combat action.
Explore the open Caribbean world to encounter a wide variety of enemies and allies.
Construct and upgrade buildings to gain more resources, better ships, more types of officers and stronger base defenses.
Gather resources through plundering enemies, trading with neutral towns and other players, and harvesting from a base.
Engage with other players by building alliances or competing in massive player vs. player battles.
Intense swashbuckling action is now available HERE on Facebook!