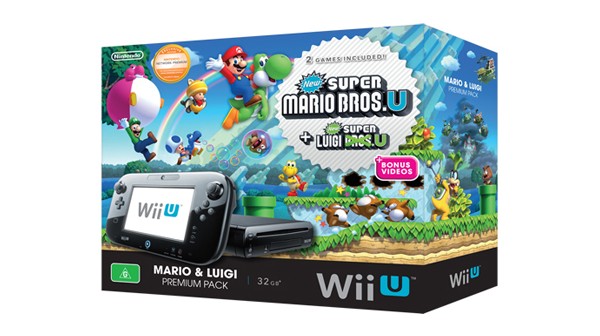 This holiday season, the new next-gen consoles aren't the only hardware making an appeal for your Christmas shopping money. The Mario & Luigi Premium Pack releases on November 7th across Australia and New Zealand, and features a black Nintendo Wii U console with 32GB of storage (25GB of which is actually free space), black Wii U GamePad controller and a copy of New Super Mario Bros. U plus its additional content, New Super Luigi U, all on one disc.
For those who are unfamiliar with the latest adventures of our favourite plumbers, here is a brief gameplay overview;
In New Super Mario Bros. U run, leap and stomp your way through a giant world map full of challenging courses and a variety of gameplay modes to sharpen your platforming skills. In New Super Luigi U, although the games basic play styles are the same as New Super Mario Bros. U, the 82 courses on the World Map have been replaced with brand new ones especially for Luigi. Containing seemingly improbable jumps, formidably hidden Star Coins and a time limit of 100 seconds to complete each course it's going to be one speedy adventure.
The bundle price has yet to be confirmed, but when it is, we will update this article accordingly.