Codemasters has announced today that a mini version of F1 will be hitting the app store in F1 Challenge.  Players will complete over 90 racing events and recreate thrilling moments from the 2012 FIA Formula One World Championship with slick touch controls for on-the-go gaming. The game features all the perks of the official license with cars, drivers and tracks. Modes include Time Trials, Duels, Chase the Ace, Race events and short Grand Prix challenges with 12 cars on the track at once.
F1 Challenge features a simple and slick control system, with options for both left and right handed gamers. Players move by using touch to steer, a simple tap to deploy K.E.R.S. and by slip-streaming to gain the advantage on their opponents in the game's isometric view which has been tuned to take advantage of Apple's Retina Displays. As you complete challenges they will unlock an in-game collection of F1 facts and trivia about cars, teams, tracks and drivers.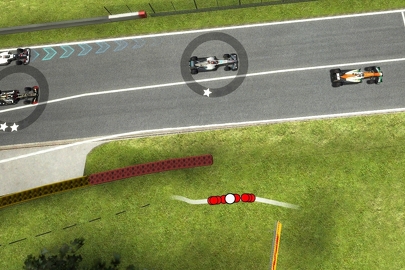 F1 Challenge is avaialable now on both the iPad and iPhone for a price of £1.99, you can download it here. Watch the trailer of the game below if you're curious to see how the sport has translated over to the small screen. No Android version has been announced thus far. We recently reviewed F1 2013 which is available on consoles and PC, you can check out the review here to see what we had to say.