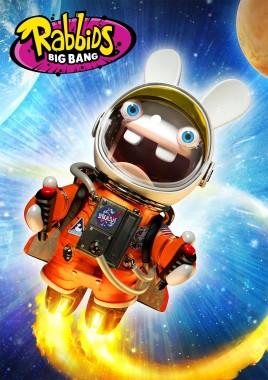 At Ubisoft's Digital Days 2013 event, a new Rabbids title was announced for iOS and Android devices called Rabbids Big Bang.
This October for only $0.99, the Rabbids are making space their playground. Rabbids Big Bang is being developed by Ubisoft Paris, who have handled the brand since 2006.
Key Features:
Rabbid Control!: In this physics-based game, players will pilot the crazy critters in their jetpacks, controlling their trajectory and utilising the gravitational pull of nearby planets. But you must manage your jetpack fuel consumption… you don't want to be stranded in deep space.
150 Missions: Reaching specified speeds, bouncing off of space cows and crash-landing on various planetoids are just some of the wacky objectives to look forward to.
Customisation: Over your play-through, you will collect coins that can be used to buy upgrades for your jetpack, new disguises and outfits, power-ups and other special items.
Signature Humour: Meet space duckies, fly to cheese planets and scream Bwaaah! as you get too close to the sun and get sunburnt (how fun!).
Check out first screenshots in the gallery below, and the reveal trailer embedded at the bottom of this article.