There is always something to see at DragonCon and this year was no different as it had almost every type of gaming under its roof, and one of the showcases stood out from the others. Along with more table top gaming than you can imagine there was also a group of pods that housed the cockpit of a heavily armed battle mech. Welcome to the world of MechCorps, an interesting concept that is also a lot of fun.
Using a group of pods connected together, they set up a multiplayer battle royale where there can only be one winner. One of the coolest things about their system is that it puts you behind the controls of a cockpit instead of the standard joystick fare. The MechCorps group uses their technology to bring the BattleTech world into a new realm of action, taking a tabletop world and adding in head to head combat. The group also makes the experience accessible to as many as possible by bringing their pods to various conventions around America as well as various private events and tournaments. There were always people in line to play at DragonCon and people waiting could check out the action on monitors detailing what each pilot was seeing and doing.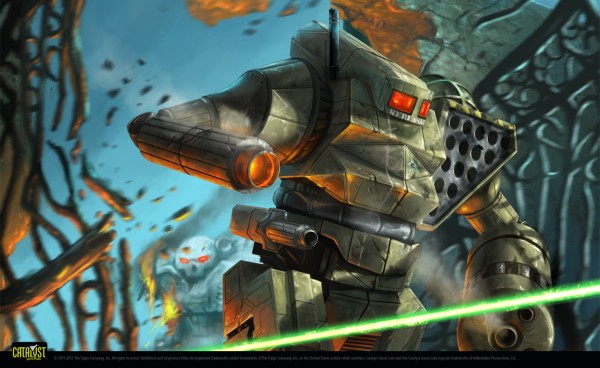 The action in their game is intense and incredibly detailed with respects to damage tracking; each mech has a 2-d visual representation on a screen and the individual parts change from green to yellow to red as increased damage is taken. Points are calculated based on damage given instead of only by kills, leading to close outcomes and intense action packed battles putting nine competitors against each other on the field of war.