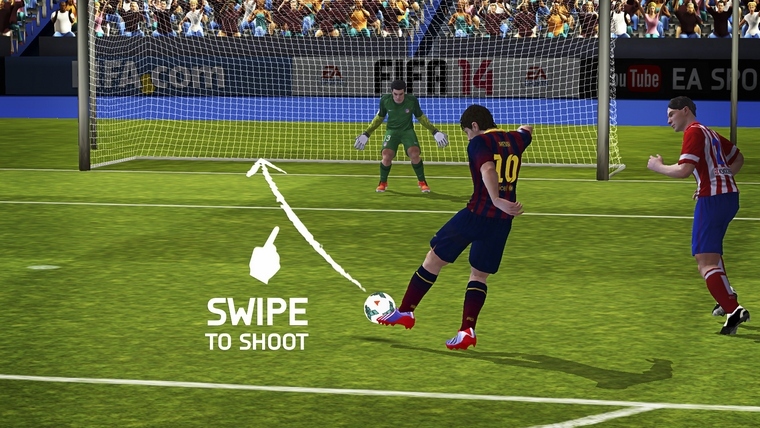 Welcome back for this week's iOS Game Suggestions. If you missed last week's, or are new to the suggestions, click on the link below and check out what cool games you should be picking up for your iOS device along with the introduction on how the suggestions work. (suggestions 1 has how it all works)
MasterAbbott's iOS Game Suggestions
A great week on iTunes! As always, it started slow and but ended with a bang! There are many must-buy games this week in all departments, FREE, 99c and over 99c. This week I've suggested a total of 18 great quality titles. Make sure you check them all especially… Fifa 14, Gang Lords, Cat On a Diet, Iesabel, Shadowrun Returns, Trouserheart, Chainsaw Warrior  just to name a few.
Break down below :
9 – FREE Games
1 – $0.99c Games
8 – Over $0.99c Games As always for this week's suggestions are all new titles that you should take a look at and consider spending your hard earned iTunes cash / time on.  Well the Free games just below certainly should all be given a shot as they won't cost you anything!
For The Cheapskates – FREE GAMES
 

MASTERABBOTT'S FREE GAME PICK OF THE WEEK!

FIFA 2014 – Price : FREE – Publisher – EA SPORTS (REAL PLAYERS. REAL TEAMS. REAL LEAGUES. Welcome to the most authentic football game on the App Store. Feel the excitement of every pass, shot, and tackle with new touch controls. Plus, live every moment of real-world football with EA SPORTS™ Football Club Match Day. Get in there!) on iPad & iPhone. GET IT NOW FOR FREE

CHECK OUR REVIEW FOR FIFA 14 HERE coming soon

 
Total Conquest – Online combat and Strategy – Price : FREE – Publisher –

Gameloft

 (Sound the call to battle and join legions of players online in a battle to control the Roman Empire! Total Conquest is an exciting and strategic social game where you are a Roman governor developing your own city-state and army. But with Caesar dead, you'll need to join a powerful Legion — or forge your own — to defeat your enemies, protect your lands, and reign supreme. Vae victis!

) runs on iPad & iPhone.

GET IT NOW FOR FREE
 
Gang Lords – Price : FREE – Publisher –

Glu Games

 (Do you have what it takes to become king of the criminal underworld? Fight for money, power, and respect in the ultimate gangster card battle game. The city is overrun with violence and terror as criminal factions struggle for control – but only one will reach the top! Collect cards, train your crew, and stop at nothing to overcome rival gangs.

) runs on iPad & iPhone.

GET IT NOW FOR FREE
 
New Star Soccer – Price : FREE – Publisher –

New Star Games

 (New Star Soccer is a unique football career game that lets you live the life of an up-and-coming superstar. Start out in the lower leagues and work your way to the top by training hard, scoring goals and keeping your boss, team mates and fans happy.

) runs on iPad & iPhone.

GET IT NOW FOR FREE

 
Tech Defense – Price : FREE – Publisher –

G4M3

 (Defend the Earth Mining Colony from the androids' rebellion. Never-ending waves of droid invaders are attacking your base. Try to survive as long as possible before they destroy you. You'll have to choose the best strategy to stand up against Templars, Spec-Ops, Hackers, Soldiers and Tanks, because every type of enemy has a different behaviour and tactical formation.

) runs on iPad & iPhone.

GET IT NOW FOR FREE

 

Monopoly Hotels Moguls – Price : FREE – Publisher – EA Mobile (ARE YOU A HOTEL MOGUL? Buy, build and manage MONOPOLY's iconic hotels in this all-new MONOPOLY experience. Check-in to MONOPOLY Hotels – for FREE.) on iPad & iPhone. GET IT NOW FOR FREE

 
Fading Fairytales – Price : FREE – Publisher –

Crescent Moon Games

 (Fading Fairytales brings together familiar fairytale characters with a unique twist. The world's craziness is elevated to a whole new level with the emergence of a mysterious dark force. Fight the corruption of formerly good fairytale folk and take out the likes of Robin Hood, Pinocchio and Aladdin as you explore and battle through the vibrantly colorful world inhabited by some of the wackiest personas you have ever seen!

) runs on iPad & iPhone.

GET IT NOW FOR FREE

 

Pocket Trains – Price : FREE – Publisher – Nimblebit (From the creators of Pocket Planes comes Pocket Trains! Manage and grow multiple railroads
by hauling important cargo around the world. Collect parts to construct all the different train types from Steamers to Diesels, and complete daily events to unlock special trains beyond imagination! Stop reading and start constructing your railroad empire in Pocket Trains!) on iPhone & iPad. GET IT NOW FOR FREE

 

Reaper – Tale Of a Pale Swordsman – Price : FREE – Publisher – Hexage (Enter the world ripe with magic and monsters! Become the Black Swordsman and slay thousands of enemies in an epic action RPG! ) on iPhone & iPad. GET IT NOW FOR FREE
For The Bargain Hunters – 99c Games
| | |
| --- | --- |
|   | Cat On A Diet – Price : $0.99 – Publisher – Chillingo (I Can Haz Cookie? Soft, fluffy, and a little on the chunky side — the podgy pussycat Dr. Meow can't stop munching on delicious cookies and needs your help getting his greedy little paws on more! While his owner sleeps, steal away into the kitchen and help tumble this tubby tabbycat into the prized cookie jar.) runs on iPhone & iPad. BUY NOW |
For The Millionaires – All games over $0.99
 

MasterAbbott's over 99c Pick Of The Week!

Iesabel – Price : $6.49  – Publisher – Forever Entertainment (In the times of darkness, only the mightiest of heroes can save the world. Stand out against the evil all by yourself in epic single player mode, or form an unstoppable team with up to 7 of your friends in an extraordinary co-op mode. Swarms of bloodthirsty monsters, loads of epic gear to collect, dozens of skills to obtain and the most beautiful world in any Action RPG Hack n Slash on AppStore, await you. ) runs on iPhone & iPad. BUY NOW

 
Shadowrun Returns – Price : $10.49 – Publisher –

Harebrained Schemes

 (MAN MEETS MAGIC & MACHINE. The year is 2054. Magic has returned to the world, awakening powerful creatures of myth and legend. Technology merges with flesh and consciousness. Elves, trolls, orks, and dwarves walk among us, while ruthless corporations bleed the world dry. You are a shadowrunner – a mercenary living on the fringes of society, in the shadows of massive corporate arcologies, surviving day-by-day on skill and instinct alone. When the powerful or the desperate need a job done, you get it done… by any means necessary. 

) runs on iPhone & iPad.

BUY NOW

 

T.E.C. 3001 – Price : $2.99  – Publisher – Bulkypix (In T.E.C 3001 (Tesla Energy Collector), you are guiding a cutting-edge technology robot to collect virtual space energy leftovers for humanity.With great graphics and a unique heart-pumping soundtrack, T.E.C 3001 has what it takes to keep you on the right track.) runs on iPhone & iPad. BUY NOW

 
Trouserheat – Price : $2.99 – Publisher –

10tons Ltd

 (Get up from the throne and defeat Blockolds, Tentacles, Derp Knights, Jelly Cubes, and other peculiar adversaries! The King needs his pants back!

) runs on iPad.

BUY NOW

 
Chainsaw Warrior – Price : $4.99 – Publisher –

GameTheNews.Net

 (Chainsaw Warrior from Games Workshop is the classic nail-biting game for one strong-nerved player: It's the year 2032 and spatial warping has opened a hole into another dimension in the midst of the old municipal buildings at the heart of Manhattan. Bizarre and dangerous creatures are flooding into our dimension, intent on destruction. Behind their actions is a controlling intelligence known as 'Darkness', who intends to drag New York back into the warp – destroying it utterly! ) runs iPad & iPhone. BUY NOW
 

Tower Of Fortune 2 – Price : $1.99  – Publisher – Game Stew (What would you choose if you could make a single wish come true? The legendary second tower has been found, rewarding a wish to anyone that can reach its summit. Playing as the hero who lost his beloved daughter years ago, will you prove brave enough to overcome the tower's traps and dangers? And if you do, will you have the strength make the right wish…or be moved by human desire? Conquer the tower and find out!) runs on iPhone & iPad. BUY NOW

 

Rugby League Live 2 – Gold Edition – Price : $9.49  – Publisher – Home Entertainment Suppliers. (Experience all the emotion and adrenaline of world class Rugby League from quick match through to international competition, as you play your way to becoming a real superstar! Realism takes over as you're propelled into the on-field experience through advanced life-like graphics, as you dominate the field with a selection of over 100 teams, you can almost smell the sweat of being in the action. ) runs on iPhone & iPad. BUY NOW

 

Buddy & Me – Price : $2.99  – Publisher – Sunbreak Games. (Explore the enchanted forest of a young boy's dreams, running alongside his best friend, a magical creature named Buddy. Jump, bounce, swing, glide, and fly together on an endless adventure about friendship, through a beautiful world of treehouse-inspired obstacles, curious critters, and natural wonders. ) runs on iPhone & iPad. BUY NOW
There you have it folks these games should keep you busy for quite some time well until next week at least. I'll be back next week for another dose of iOS goodness, in the meantime if you would also like to suggest your own suggestions, please feel free to share them in the comments section below or in the iOS forum section on the site here.
Remember kids, Play Hard Or Don't Play At All!