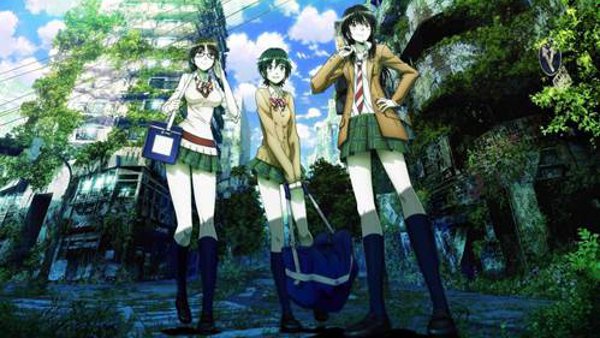 If you are a fan of post-nuclear anime, then you may want to check out the new Action/Drama series that Madman has acquired. Coppelion is the story of three normal-looking high school girls that arrive at the irradiated remains of the old capital. But, these girls are more than they seem, as they are in fact genetically altered to be able to survive in the radioactive conditions.
Coming from studio GoHands, the same studio that produced the Mardock Scramble films and the K series, anime fans will be able to watch as these three girls, members of Ground Self-Defence Force Dispatch 3 Special Force, will do their best to carry out their mission of rescuing those survivors left in the area.
Just what do these radioactive ruins hold for the girls as they carry out their mission? Be sure to check it out for yourself when Coppelion starts its simulcast on October 3rd, 2013 at the Madman Screening Room alongside its release in Japan. Be sure to voice your thoughts on this series in the comments below.