 Since the invention of smartphones and tablets, mobile gaming has transformed how people play games, but maybe the best thing it has done for the world is sparking the revival of card and boardgames. Being able to play games like Risk, Elder Sign, and Magic on the go has brought some much needed exposure to a genre of gaming that was beginning to be forgotten. Games Workshop, the makers of Warhammer, have been a prolific force in the table-top gaming world for decades and many of their most popular titles like Blood Bowl have been licensed and released across multiple gaming platforms, being praised by both newcomers and veteran players alike. It was only a matter of time before their classic 1987 boardgame Chainsaw Warrior was remastered for digital platforms and Auroch Digital were the ones to get their hands on its license.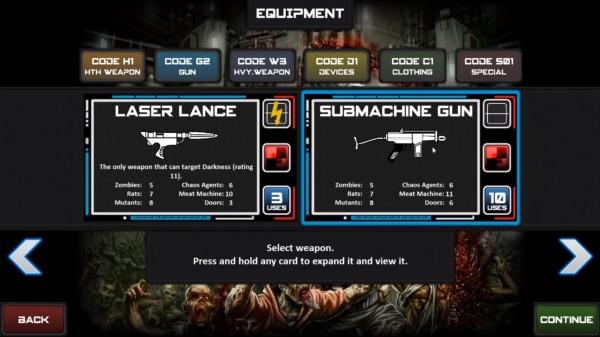 The objective of Chainsaw Warrior is to save New York as a spatial rift attempts to pull the city into another world. You play as a cybernetic solider called the 'Chainsaw Warrior',  slashing his way through a zombie infested Manhattan trying to find a way to close the rift and save the city.
Today sees Chainsaw Warrior being released on the iPhone, iPad, and iPod Touch with a release on Samsung devices following later this week. It costs $4.99/€3.99/£2.99 on iOS devices (Buy here from iTunes Store) and will be the same price on Samsung devices when it is released.