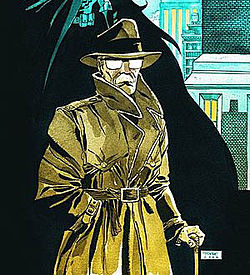 Fox TV has acquired the rights to develop Gotham, a live action TV show following the pre-Batman story of Commissioner James Gordon and his rise through the Gotham police force. In addition to following the career of Gordon the series will also feature some of the most famous villains of Gotham City. Batman will make no appearance in the show.
Gordon has been a prominent figure in the Batman universe since the first comic was published in 1939, and played a major role in Christopher Nolan's recent Dark Knight Trilogy where he was played by Gary Oldman.
Bruno Heller (Rome, The Mentalist) and Warner Bros. TV created the series, with Heller remaining on board. Fox has already ordered an entire series, bypassing the pilot stage of production. The show is thought to be arriving next year and marks the second recent venture into a spin off TV series by DC Comics after the launch of Arrow.
Potential cross-over between the two shows could be limited. Arrow airs on a different network, and the pre-Batman period that Gotham takes place in would make any collaboration especially difficult.
The Gotham reveal comes as Marvel's Agents of S.H.I.E.L.D makes its much hyped debut.