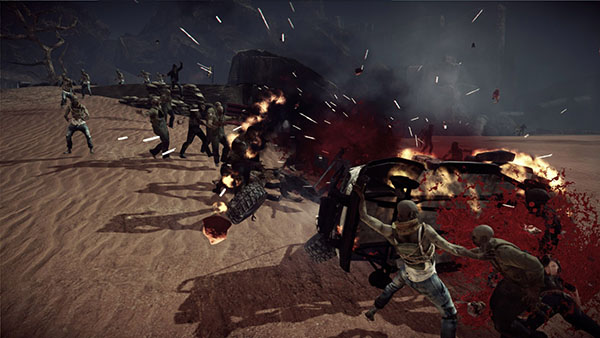 Online first-person shooter Ravaged, by indie developer 2Dawn Games and Reverb Publishing, has been updated to Ravaged Zombie Apocalypse with tons of new content and features. You can check out the trailer below.
Players have to collect parts in order to repair the escape vehicle in zombie-infested conditions. Weapons can be looted for more firepower and fuel is necessary to use the game's many vehicles.
The re-branded title sports new single-player and co-op gameplay with the inclusion of new maps, modes, zombie types, a loot system, squad spawn, teammate revival and Steam achievements.
In addition, existing fans of Ravaged can look forward to some specific changes:
New Game Mode – Teams battle each other in "Resource Run Valley", a vehicle tug of war in the attempt to run resources across the map to their final locations without dying. Tons of jumps and obstacles block the way. This map also offers new Steam achievements.
New Tank Hill Thrust Map is a HUGE new level for battles between the heaviest of the Ravaged vehicles. Tank Hill supports the traditional Thrust game mode.
Traditional Ravaged Additions – The original game mode now includes new options to play with Listen server support (host your own games) and a new practice mode (for those who still suck at flying heli's).
Ravaged Trading Cards are Now Available
Ravaged Zombie Apocalypse is available on Steam for the PC at $9.99USD (normally $14.99). For more info be sure to check out the game's website along with its Twitter and Facebook pages.