As part of today's Nintendo Direct video, Satoru Iwata, CEO of Nintendo announced that a new app will be available for Wii U owning, Animal Crossing fans.
As of right now, Animal Crossing fans are able to download the "Animal Crossing Plaza" app from the Nintendo Wii U eShop. Isabelle, the secretary from New Leaf (check our review here), along with Lloyd and a huge variety of characters from the game will all be making appearances in the plaza. These characters will share information about the game, MiiVerse posts, and information about upcoming calendar events and SpotPass promotions. In addition to learning all the latest and greatest goss about the game, you can also share your clothing and design QR codes straight to the plaza, where anyone can scan them straight off of their Gamepad and into their game.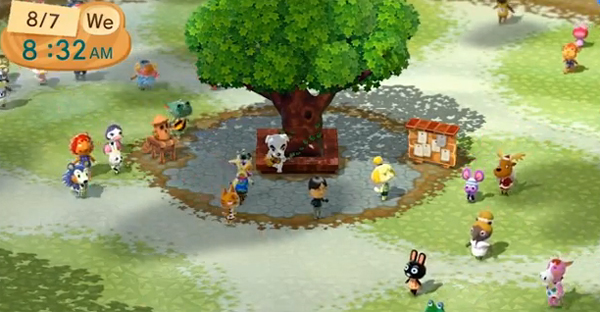 "Wait! Did you say MiiVerse posts?" Yes I did, thank you astute reader. Iwata also proudly announced the launch of the brand new Animal Crossing MiiVerse. The MiiVerse will operate exactly the same was all of Nintendo's other MiiVerse channels. You can access the Animal Crossing MiiVerse directly from your Wii U, or through the MiiVerse website here.Lastly, Nintendo also announced a brand new "Animal Crossing Welcome A Friend Promotion." The Promotion allows you to get a friend a free copy of Animal Crossing: New Leaf, just for owning a copy yourself. It is a somewhat tricky process, but I will cut down all the nitty-gritty and just put it in a list for you:
Player with Animal Crossing: New Leaf registers their copy to their Club Nintendo Account.
That Player will receive a special Code.
That Player gives the code to a friend
The Friend registers a 3ds XL Console from August 7th – October 7th, and also redeems the code that they received from the original player.
Once verified, the Friend will receive a free downloadable version of Animal Crossing: New Leaf.
There, simple isn't it? If you know someone who would love Animal Crossing (which face it, is pretty much everyone), or you just need someone to trade fruit with, then get your code and get sharing.Three bits of Animal Crossing news in such a short span of time, and it is only the tip of the iceberg!
You can check out the Animal Crossing Plaza and MiiVerse section of the Nintendo Direct Presentation below. Stay tuned to Capsule Computers for all of the Animal Crossing and Nintendo news as it becomes available. Oh and see you at the Animal Crossing Plaza!