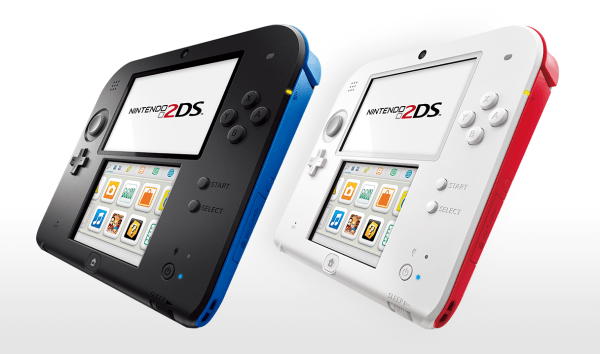 So Nintendo just smacked us with a surprise… come October 12th, the Nintendo 2DS will hit the market. The 2DS will be able to play all 3DS games in, you guessed it, two dimensions. It is also backwards compatible with the entire library of DS titles released over the years.
The Nintendo 2DS will be available in two colour combos at launch – black + blue and white + red (shown in the image above). You can do everything you have been able to do with its bigger brothers. You will be able to swap game data with your friends using StreetPass and receive new content and news with SpotPass. Also added is a switch-based Sleep Mode, which will save power but allow you to continue using StreetPass while you're on the go. And finally, complementing the signature touch screen and augmented reality abilities are "new ways to play", with integrated motion and gyro sensors (haven't they always had them?). The Nintendo 2DS is the "Value" option in the "Nintendo 3DS Family", priced at $129.99 USD.
Check out the introduction video embedded at the bottom of this article, below the following comparisons chart. For more information, visit the official UK Nintendo 2DS webpage.