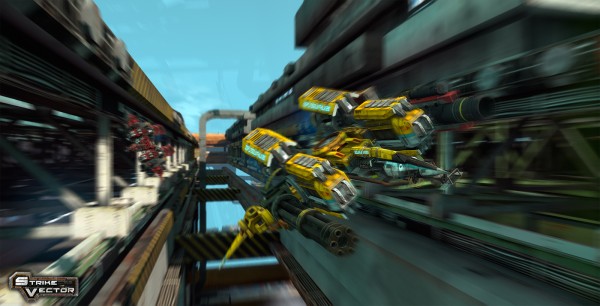 Ragequit Corporation released a brand new gameplay trailer for their upcoming air shooter Strike Vector at Gamescom 2013. The video features some butt clenching dog fights in a midair construction zone full of tight spaces and sharp corners.
Strike Vector was Greeenlit on Steam earlier in the month. It is a air shooter that mixes dog fighting with classic FPS gameplay. Players will pilot Vectors, special ships capable of moving like a jet or hovering like a helicopter. These ships carry two weapons and can be augmented with player selected perks allowing players to fly ships tailored to their personal play style. Ragequit Corporation is focusing on multiplayer gameplay with classic modes like Deathmatch and Capture the Flag.
Strike Vector will be released on Steam for Windows in 2014.