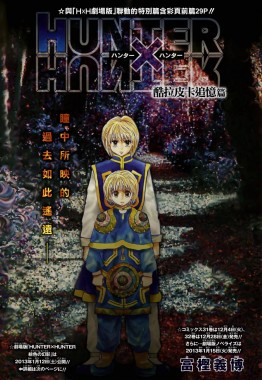 Hunter x Hunter fans have reason to be excited as Yoshihiro Togashi has actually drawn some Hunter x Hunter again. The Kurapika back-story chapters which we reported on previously have now been confirmed to be a free gift for attendees seeing the Hunter x Hunter: Phantom Rouge film next month as part of a compiled Volume 0 manga.
The Hunter x Hunter Volume 0 will feature both chapters of the Kurapika back-story mini arc which serves as a prelude to the film. The film itself is based on an alternate reality of the York New arc in which the number 4 spider was never replaced by Hisoka.
What do you think of Hunter x Hunter Volume 0 being given to movie-goers for absolutely free next month in Japan? Let us know in the comments section below.