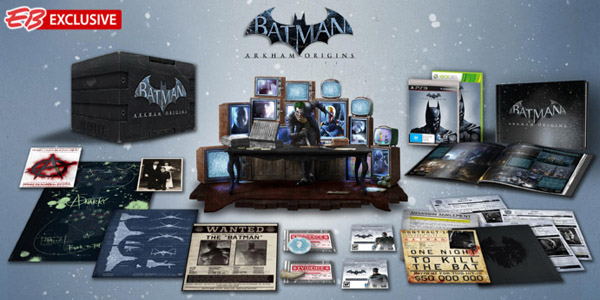 Last week, the official Collector's Edition for Batman: Arkham Origins was announced, and boy was it impressive. The incredible statue alone made the whole package worthwhile. For you collector's edition hunters out there though, don't be so hasty to throw down your money just yet, as today Warner Bros announced the Batman: Arkham Origins Definitive Edition.
Announced last night as the US-exclusive collector's edition, EB Games this morning announced that they would be the sole stockist of the Definitive Edition in Australia. Alongside the game, the pack includes;
Exclusive Arkham Origins premium statue featuring LED effects produced by TriForce

Beautifully rendered and highly detailed statue measuring approx. 9" x 13" x 11.5"

80-page, full-color hardcover artbook measuring approx. 7.5" x 10.75" x .5"
Two key pieces of evidence taken directly from the Gotham City Police Department crime lab
Batman Wanted Poster
Batwing Prototype Schematic
Anarky logo stencil
Glow-In-The-Dark map of Gotham City
Wayne Family Photo
Assassin's Intel Dossier, which includes files on the 8 assassins as well as Black Mask's contract
1st Appearance Batman Skin: Look just like Batman did during his first appearance in Detective Comics #27, released in 1939.
Deathstroke Challenge Pack – Unlock the ability to play as one of the world's deadliest assassins! Usable throughout all the Arkham Origins Challenge maps.  Also includes two bonus challenge maps and two bonus Deathstroke Skins.
Bonus Black Mask Challenge Maps DLC (Exclusively available as an EB Games pre-order incentive)
The edition is a little pricey at AU$139.00, but it is more than worth it. That Joker statue alone would almost cover the cost on its own.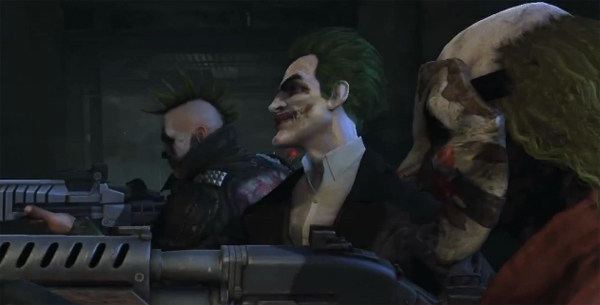 Will you be pre-ordering the Definitive Edition? Sticking with the Collectors Edition? or are you just in it for the game? Let us know in the comments below! I already have my Definitive Edition on pre-order and am counting down the days until it is available. So bat-fans, for all the Arkham Origins news as it becomes available, stay tuned to Capsule Computers; same bat-time, same bat-channel.