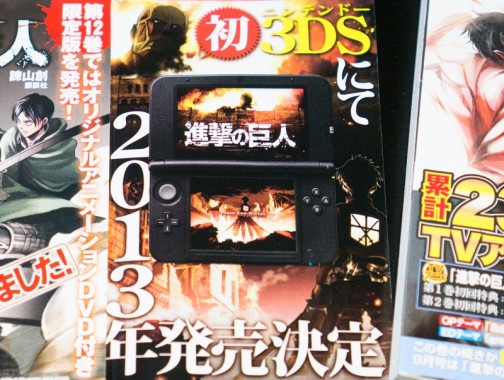 Get ready to scream 'Jaeger' Attack on Titan fans, it has been officially confirmed that Spike Chunsoft are developing an Attack on Titan video-game for the Nintendo 3DS. On top of that the game is scheduled for release in Japan later this year.
The announcement came from within the wraparound jacket of the 11th volume of the Attack on Titan manga. Not much else is known about the Attack on Titan 3DS game at this time, but we can expect more information to surface in the coming weeks.
Spike Chunsoft most recently have developed Danganronpa: Trigger Happy Havoc for the PS Vita and Streetpass Battle for the Nintendo 3DS. It will undoubtedly be very interesting to see what they can put together for an Attack on Titan game.
What do you think of Attack on Titan getting a 3DS game? Are you ready to kill those filthy titans? Let us know what you think in the comments section below.