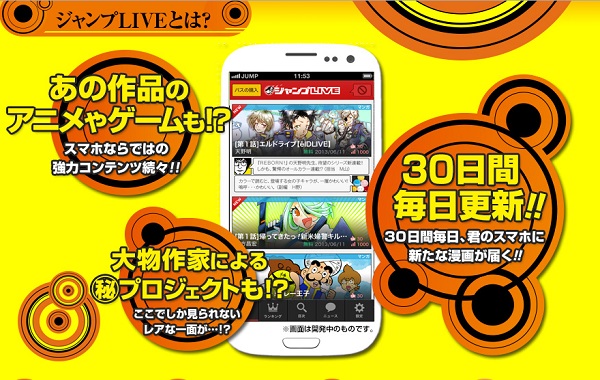 Japanese publishing giants Shueisha have taken another step in the digital distribution for manga. This August their new application "Jump Live" will be available to all iPhone and Android users, the application itself is free and a subscription fee of 250 yen (roughly $2.50 USD) will be charged per month.
Promotion for the application recently began just a few days ago; an official website has been created as well as a twitter account and a short promo video was also uploaded to the Weekly Shonen Jump YouTube page yesterday.  At the time of writing the official twitter page only has 6 tweets with the most recent one stating updates will be made daily until the launch of the app, Click here to check out the Twitter page and don't forget to check out the Official Jump Live website.
The  app will also be providing exclusive content for its subscribers every day, this will include news about games, anime and new one shots and manga created by up and coming mangakas.  One confirmed series for the app is "ēlDLIVE", the newest manga from "Reborn" creator Akira Amano.
The app will be available through Google Play and the Apple App Store.