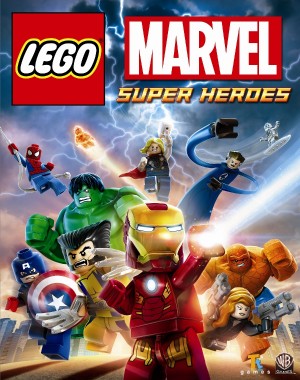 While it was announced that LEGO Marvel character would be gracing the covers of Marvel comics come September, there hadn't been any official word yet on the cover art of their own LEGO Marvel Super Heroes game. But that changes now as Marvel, along with developer TT Games and publisher Warner Bros., have revealed the box art for the upcoming game.
Featuring just about every character that has had a titular role in the movies, the box art shows off the likes of Iron Man, Thor, Wolverine, Hulk, all the Fantastic Four (if one assumes Invisible Woman is invisible), plus more fan favorites. Boasting more than 100 playable characters LEGO Marvel Super Heroes has many more than could possibly be shown.
The cover art isn't the only announcement however, as the game will be making a showing at San Diego Comic Con this year at Marvel's booth. So, fans that find themselves down there can be sure to check it out at booth #2329. The presence will be bigger than just the booth however, as LEGO Marvel Super Heroes will also be featured in the Marvel Video Games Panel at 12:30 local time July 20th, 2013 in room 6A.
LEGO Marvel Super Heroes is set to release this Fall (Spring in Australia) for consoles Xbox 360, Xbox One, PS3, PS4, and Wii U; handhelds PS Vita, Nintendo DS, and Nintendo 3DS; and PC.