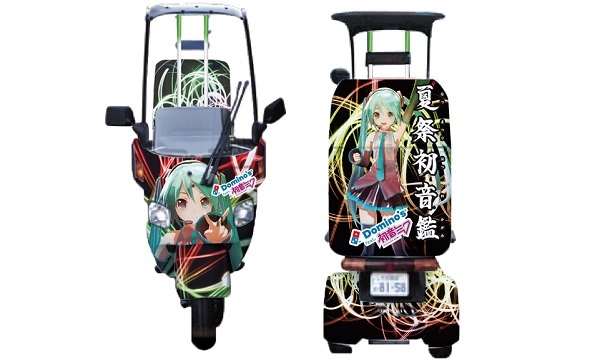 Hatsune Miku has teamed up with the Domino's pizza chain to bring a whole new pizza delivery experience.
Unfortunately they are not putting the delivery drivers in Hatsune Miku cosplay, but they are going to delivering pizzas in a brand new bike that will be covered with pictures of the popular Vocaloid. Believe it or not this is actually the second Miku delivery bike that Dominos have created; the first one started delivering pizzas around Tokyo earlier this year and the second bike will become active on Tuesday.
The partnership between these two can be further shown on their official website. In my opinion this is an interesting concept, however when it comes to pizza promotion nothing can beat the Ninja Turtles.
Miku and Dominos have a strange collaboration going on, not only is she on their vehicles in Japan, but she also appears on special pizza boxes that combines with a special phone app that lets you… actually check out the video down below, I'll let the Domino's President explain it all.