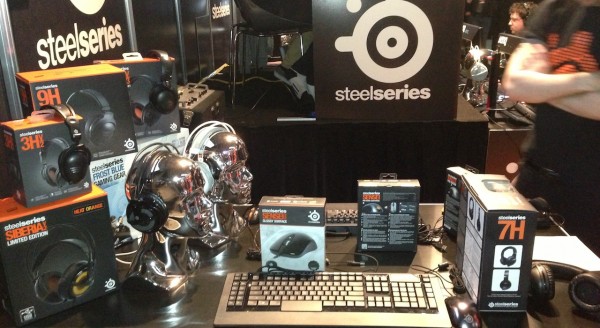 At PAX Australia 2013 this weekend, we got the opportunity to check out the new and upcoming range of SteelSeries competitive headsets, keyboards and all other manner of gamer gear. Most were display units, so we can't speak on headset audio quality specifically, but will hopefully get that chance with some reviews down the line.
Approaching the booth – and in passing it throughout the day – your attention is called to the seemingly hourly giveaways and competitions occurring therein. Right up front, three players are engaged in tense matches of Counter-Strike against the best of the best in Australia, sitting on an elevated platform above them (talk about overt symbolism!). Everyone is using the Siberia v2 Heat Orange Edition headsets, which is the prize for any potential victors who would dethrone the champions. Alas, as of the time of our visit, no one had been successful. Losers didn't go home empty handed however, as they received a SteelSeries t-shirt and mousepad as consolation.
Onto our booth tour, we looked at many products in the line on display. We spoke to Country Manager & Regional Sales Director of Oceania, Annabelle Woods, who was beyond ecstatic to be bringing the new gear, and in particular the 9H Headset – which she calls "her baby" – Down Under. The 9H is part of a trio of new headsets, the other two being the 5Hv3 and 3Hv2 (going down in sizes). They each have retractable microphones which we honestly could not even spot at first glance…they don't joke when they call them invisible. Although they each have a different form of padding, they were all extremely comfortable, with the 9H being our favorite due to the larger, accommodating ear cushion size. The 9H will be available in Australia this holiday season, with the 5Hv3 and 3Hv2 releasing by the end of August.
We also looked at the 7H, Flux and aforementioned Siberia headsets. Annabelle tells us that the 7H will continue to be sold alongside its new brothers once they launch, but will most likely be phased out in the coming year. The Flux headset is the more compact and portable of the line, and is extremely customisable, with easily detachable cushions and side panels. Even the cords come in different colours. What's especially neat about this one is that it can accommodate PC, Mac and Mobile connections with the ability for a friend to plug-in their cable in the second port and listen to what you are listening to, eliminating the old "sharing an ear" method; a welcome feature to say the least. The Flux headset is available now.
The Siberia v2 headsets are very cool…and in the case of the Frost Blue Edition, that becomes a pun! Hooray! They have elastic headband suspension – so you don't have to fiddle with the sizing for your enormous head – and feature 16 super bright LED's in the ears that can illuminate in 6 different modes (constant, pulse – slow to fast, intensity – low to high, and sound-based). The other thing that is improved over the v1's is the integrated USB sound card that is supported by the SteelSeries Engine. Again, we couldn't put this to the test, but maybe very soon we will be able to. What we've noticed across all of these pieces is the consistent comfort, light weight and build quality. Both the Heat Orange and Frost Blue editions are available now.
As mentioned, headsets weren't all we were shown. SteelSeries have all your gaming gear needs covered, from mice to keyboards and bluetooth wireless controllers…tiny bluetooth wireless controllers! We might almost call them cute! These are compatible with certain PC, Mac, Android and iOS games, but apparently have also been reported to work with some Pioneer in-dash systems and players in your car. Their buttons give good feedback and don't stick, and the thumbsticks are almost in that perfect zone of resistance/required force for movement. They also have left and right shoulder buttons, which are not clearly visible in the image above. The Mobile Wireless Controller is currently only available to Australians through the SteelSeries online store, but will hopefully be hitting retailers' shelves in the next quarter.
Finally, we'll cover the keyboards – the 7G and Apex. The 7G has been around for years now, and is a solid, sturdy, mechanical keyboards with 8K gold-plated mechanical switches and USB connectors in the back. Many will have this nowadays, but the 7G is still a reliable and durable piece of kit that gets the job done if that's all that matters. The Apex, however, is more so for competitive gaming, featuring raised macros, two extra diagonal arrow keys, 5 individual colour zones which allow you to easily personalise and identity keys based on color (those privy to macros will know how useful this is) and much more. Both keyboards are available right now.
It's great to see the brand up close and personal and poised to make a bigger impression upon the Australian gaming gear market. From what I've seen and felt, SteelSeries make functional kit that doesn't suffer on form or fashion. Keep an eye out for the above products at these retailers.