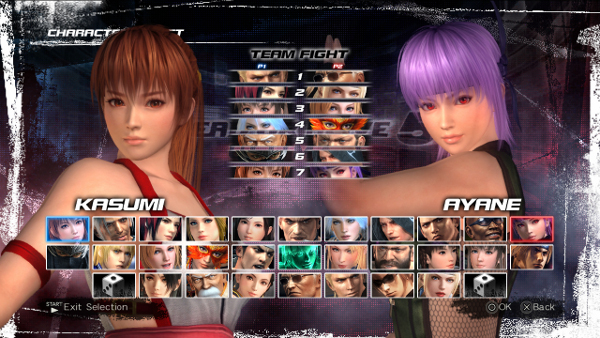 The people at Team NINJA have been hard at work making sure that Dead or Alive 5 Ultimate will not only prove better than the original Dead or Alive 5, but Dead or Alive 5 Plus as well, which is no easy task. The key of course is to ensure that everyone playing is able to do so exactly the way they want. So, Team NINJA, with publisher Tecmo Koei, have given the details on some of the new features fans will be able to find in Dead or Alive 5 Ultimate.
Players that aren't so interested in online play will be happy to hear that Dead or Alive 5 Ultimate will be getting new offline game modes. Team Fight mode will task players will building a whole team of fighters to face off against another player or the computer, as can be seen in the image above teams can have upwards of 7 fighters. With this in mind players will have to plan accordingly as opposed to sticking to only a few favored characters.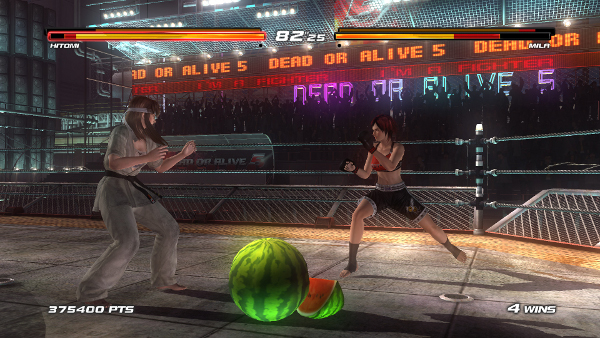 To help players out to get started Dead or Alive 5 Ultimate will also see new and advanced Tutorial mode to ensure players are being as resourceful and possible. Combo Challenge mode can prove to be an excellent test for what players have learned as they try to streak together all the moves they can like tag combos. Ultimate also sees the return of items for the Survival mode, meaning that defeated enemies can drop one of nine special items like the watermelon for refilling life to the fullest.
Customization will also be a fairly large part of the game, as players will be able to choose fighter's costumes, hairstyle, and animation. While the new "Pop Idol" sets have already been announced as pre-orders there are plenty more options as costumes can be transferred. Players will also have more to try and achieve for customization in the form of Titles, with almost 1000 titles and plenty for each character. This additional customization will be even easier to see and experience with Movies, allowing players to re-watch entrances, victories, and scenes with the characters in the new customizations.
Players looking forward to all these new features will be able to check them out for themselves when Dead or Alive 5 Ultimate releases at the beginning of September for Xbox 360 and PlayStation 3.