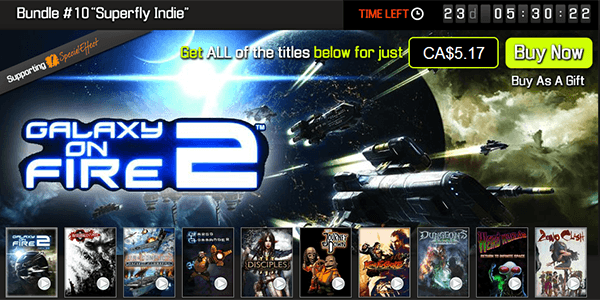 For those already suffering from withdrawal symptoms after the end of Steam's Summer Sale, Bundle Stars has the cure! The Superfly Indie Bundle contains ten indie games for the low price of $5.00.
The SuperFly Indie Bundle contains Galaxy on Fire 2 Full HD, Afterfall Insanity Extended Edition, Disciples III Renaissance, Dungeons: The Dark Lord, The Journey Down: Chapter One, Zeno Clash, Weird Worlds: Return to Infinite Space, Cargo Commander, and Kung Fu Strike. All ten titles are redeemable on Steam and run on Windows PCs. The Journey Down also runs on both Mac and Linux, while Cargo Commander also runs on Mac.
A portion of the profits from the SuperFly Indie Bundle will go to support the British charity SpecialEffect, which helps those with physical disabilities and veterans of war play video games.