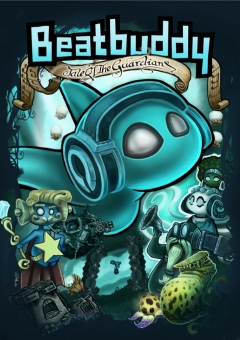 Indie studio THREAKS and Reverb Publishing have today announced the launch date for Beatbuddy: Tale of the Guardians (formerly known as Beatbuddy). The game is scheduled to release worldwide on August 6, 2013 on Steam and is available for PC, Mac and Linux platforms.
Beatbuddy: Tale of the Guardians is the first game released by THREAKS and is a music based action-adventure title that takes place entirely underwater.  The story centers around an ethereal blue creature who was awoken to save Symphonia from the evil Prince Maestro who wants to steal music forever. The story will take Beatbuddy through a number of worlds where he will meet other characters that will help him open paths and solve puzzles. One of the coolest features in the games is the unique technology that will sync in game animations with the beat of the soundtrack. The game won first place for Best Art and Best Sound categories in Intel's 2012 Level Up Game Demo Contest.
Wolf Lang, CEO and Co-Founder of THREAKS had this to say about the announcement:
"Beatbuddy has a compelling cast of characters and we are thrilled to announce the new name and global release date…With talent involved like Rhianna Pratchett, who is refining the game's already charming storyline, paired with the music of artists such as Austin Wintory, the game has evolved into a true work of art."
You can grab Beatbuddy: Tale of the Guardians when it releases worldwide on Steam on August 6th at a price of $14.99. Check out the video trailer for the game below.