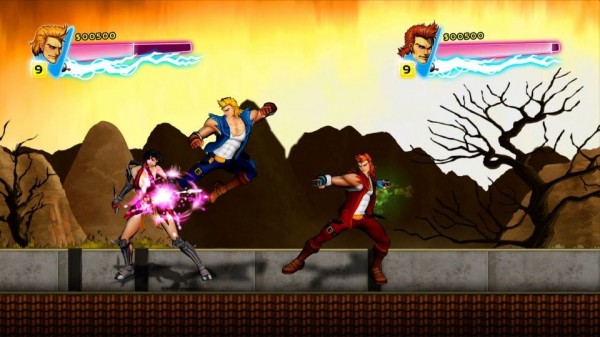 Can you believe the year has flown into August already? Pax Prime 2012 is right around the corner, taking place from August 31st through September 2nd, and today Reverb Communications and its subsidiary Reverb Publishing jointly announced what they will be bringing with them. From Double Dragon Neon to Pid, this line-up is looking amazing, and is yet another reason why you should all be getting to know the name "Reverb" as of now.
Here is what will be on display (Booth #3340):
Reverb Communications' client line-up includes:
Alien Spidy (Kalypso Media Digital Ltd.; XBLA, PSN, PC and Mac): Alien Spidy engages players to step into the web of an intelligent alien spider whose space ship has crash landed on Earth. In order to escape, Spidy must rescue his female companion, Virgi, and collect the lost parts of his craft. Alien Spidy's unique web-swinging mechanics and beautifully illustrated environments make the game accessible to gamers of all ages, but it's the game's increasingly tough levels that are likely to engage hardcore players.
Dollar Dash (Kalypso Media Digital Ltd.; XBLA, PSN, PC): Find it, rob it, and keep it. Players grab the cash in this fast and frenetic top-down multiplayer versus game. Dollar Dash will have fans shouting for joy, as they make a dash with the cash. Players must attack, defend or outrun their competitors in any of the three game modes (Dollar Dash, Save the Safe or Hit'n'Run) using unique and comedic tactics.
Double Dragon: Neon (Majesco Entertainment; XBLA, PSN): Fight as twin brothers Billy and Jimmy Lee on an exciting adventure to save their shared love interest, Marian, from the evil Skullmageddon across 16 brawling levels filled with elaborate missions, malicious enemies and over-the-top battles. Double Dragon: Neon is the reinvigorated update to the 80's beat'em up smash hit that is reminiscent to the original.
Pid (Might & Delight; XBLA, PSN, PC): Pid is a platform game that will turn everything about 2D gameplay upside down. Players take the role of a young boy that gets stranded on an old remote planet. He must fight off a variety of malicious robots bent on stopping him while befriending unlikely allies to shed light on a huge conspiracy that keeps the planet mesmerized and prevents him from ever reaching home.
Reverb Publishing will have playable demo stations for numerous upcoming titles, including:
Primal Carnage (PC): Primal Carnage is an asymmetrical, online multiplayer game of humans versus dinosaurs. Prepare to hunt AND be hunted as Primal Carnage sets players in a man versus pre-historic beast class-based team deathmatch – savvy survivalists collide with foes of brute force, allowing players to choose a side. PAX attendees can play on one of 12 kiosks linked in a 6v6 multiplayer match.
Insurgency 2 (PC): Insurgency 2 is a strategic, fast-paced and strikingly realistic first-person shooter that puts the player in modern conflict zones. Featuring highly scalable HD graphics with new and improved levels and gameplay, Insurgency 2 will boast a wide variety of powerful weaponry, and deliver players a unique blend of tactical action they can't get elsewhere. Insurgency 2 PAX Prime demo stations will be linked in a 3v3 Deathmatch.
Rocketbirds: Hard Boiled Chicken (PC): Set in Albatropolis, a land full of birds taken over by a totalitarian penguin regime, players take the role of Hardboiled Chicken, the original Coq of War, who must assassinate the evil penguin leader Putzki. His mission will unlock the secrets to his mysterious, hard boiled past and uncover the real enemies of Albatropolis. Take on Putzki, in either single-player or co-op mode, and watch as Hardboiled Chicken's astonishing past is unveiled through a series of unlockable cut scenes and videos.
Beatbuddy (PC): A musical action-adventure where players take control of the eponymous Beatbuddy and navigate him through a unique musical world where each level is a song. Music, rhythm and interaction with the elements of a particular tune take center stage as you explore, overcome obstacles and solve puzzles.
Cognition: An Erica Reed Thriller (PC): A thought-provoking mystery following Erica Reed, a Boston-based FBI agent haunted by the unsolved case of a serial killer who took her brother's life. Taking a turn for the strange, Erica investigates scenes with the ability of post-cognition, which allows her to sense an object's past with a mere touch. What unravels is a much greater, much more complex and enigmatic mystery, as it becomes clear that someone knows her secret.