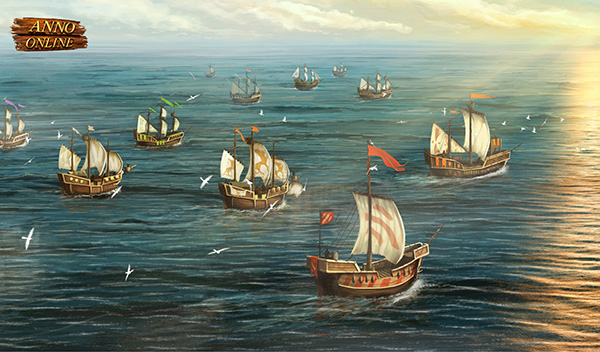 Ubisoft has just unveiled that new features are on the horizon for Anno Online. Future updates will contain the inclusions of shipyard, treasure hunt, and optimized tutorial features. Let's see what the new features have to offer:
New Shipyard Design
Built to encompass a fresh hand-off to new players, the shipyard re-design allows players to view/build ready-to-use ships with captains already aboard. Noticeable improvements can be seen with trade ships traveling faster and with enlarged cargo capacity for transport fleets.
Expanded Treasure Hunt
To extend the pre-existing treasure hunt, four new treasure hunters are available who can assist you in the quest for finding ultimate treasures. Such treasures include but are not limited to tools, beer, meat, brocade robes, ship parts, or even improved sails.
Optimized Tutorial
Perhaps the most prominent update is the inclusion of an optimized in-game tutorial. Better explanations of complex game mechanics have been reworked into the system by rearranging the availability of quests in junction with clearer explanatory texts. Players can expect a step-by-step explanation to get started with the free-to-play title. With the shipyard receiving a re-design, it will now be unlocked at 900 vassals giving a new player enough time to understand the in and outs of the ship system.
You can create your own account for the MMO and begin playing Anno Online for free (here).