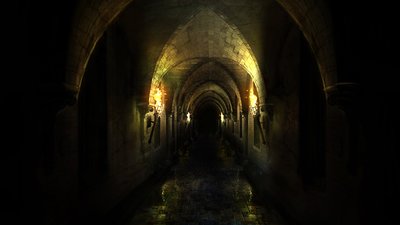 Roleplayers around the world should check out an app called Syrinscape, from Interaction Consortium, which is basically a program that allows players to enhance their roleplaying experience by adding a major ambient audio component to the experience. The app is available on the PC and Mac devices, although mobile versions are being planned.
Syrinscape, as we previously covered, is an app that essentially plays various SoundSets to enhance a gaming session. The app is initially free and comes with two free SoundSets, "Bugbear Battle" and "Witchwood". After the initial download, players can purchase additional SoundSets at a fixed price of $3.99 each. Players can also download the Syrinscape Starter SoundSet 6-Pack, which contains a selection of SoundSets, for $20. These are listed below:
Available are the following SoundSets, priced at just US$3.99 each:

Dungeon – a disturbing environment of foreboding rumbles and distant screams…
Elven Vale Day – a luscious rich forest drenched in dappled light and knee deep in leaves and mystery (it's perfect for meditation too!)
Elven Vale Night – the warm embrace of a peaceful night falls over the Elven forest.
Brindol Town – a thriving village with streets full of busy traders, laughing children, passing processions and strumming bards.
Dragon Battle  – as the viscous creatures comes to blows, sharp claws scratch the polished stone floor and tails and wings smash chunks of stonework and rock from the walls.
Spooky – the characters stumble through a mist-choked underworld. Disoriented, they are taunted by voices that seem to float around them while half-formed faces tease them from the shadows.

Or purchase the Starter SoundSet 6-Pack of all the above six SoundSets for only $US20.

Be sure to check out the Official Site for more info. Visit the store to purchase the Starter Soundset 6-Pack.