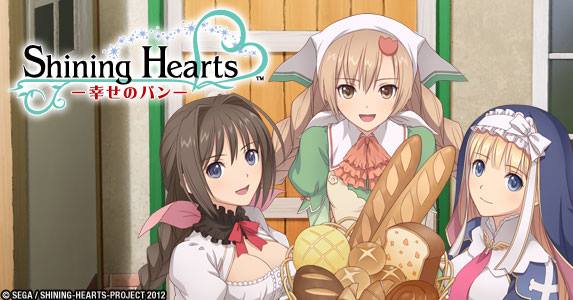 Remember Shining Hearts? An anime adaptation of a video game that mostly revolved around baking bread that aired back in mid 2012? Well today Sentai Filmworks announced that they are planning on dubbing the series and releasing it on DVD and Blu-ray on August 13th.
To go along with this announcement the company also announced the English dub cast which can be found below:
Rick        Blake Shepard
Amil       Maggie Flecknoe
Neris      Genevieve Simmons
Airy        Brittney Karbowski
Madera  Marcy Bannor
Ranah    Margaret McDonald
Alvin      Eric Daugherty
Sylph     Tiffany Terrell
Sammy  Shelley Calene-Black
Priest     Christopher Ayres
Sentai Filmworks has also provided a brief synopsis of the show which can be read below:
Over the years, many strange things have washed up on the shores of Windaria, a mysterious island where humans, elves and other beings all live in harmony. Rick, a former swordsman who runs the Le Coeur Bakery with his three beautiful coworkers Neris, Amil and Airy, knows this all too well, having been found on the beach with a profound case of amnesia himself. Perhaps that's why Rick takes a quick interest in Kaguya, a girl who arrives in Windaria in a similar fashion. Whatever the reason, it soon becomes apparent that his skills with a sword may be required to protect the lovely castaway. For dark forces are on the move, the red moon is on the rise and a deathly wind is blowing into Windaria in the form of pirates, brigands and other strangers, all of whom seem to be seeking Kaguya! Or is it the mysterious pendant that she wears that they're after? The one thing that's sure is that there will be no time for loafing around the bakery now, because everything's about to come out of the oven and go into the fire in SHINING HEARTS!