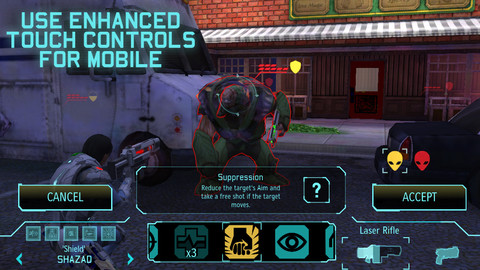 Welcome back for this week's iOS Game Suggestions. If you missed last week's, or are new to the suggestions, click on the link below and check out what cool games you should be picking up for your iOS device along with the introduction on how the suggestions work. (suggestions 1 has how it all works)
MasterAbbott's iOS Game Suggestions
A great week on iTunes! As always, it started slow and but ended with a bang! There are many must-buy games this week in all departments, FREE, 99c and over 99c. This week I've suggested a total of 17 great quality titles. Make sure you check them all especially… XCOM: Enemy Unknown, Home – a Unique Horror Adventure, Puzzle Pirates Eden to Green, Where's My Mickey, Gloomy Hollow  just to name a few.
Break down below :
8 – FREE Games
4 – $0.99c Games
5 – Over $0.99c Games
As always for this week's suggestions are all new titles that you should take a look at and consider spending your hard earned iTunes cash / time on.  Well the Free games just below certainly should all be given a shot as they won't cost you anything!
For The Cheapskates – FREE GAMES
 

MASTERABBOTT'S FREE GAME PICK OF THE WEEK!

Puzzle Pirates – Price : FREE – Publisher – SEGA (Puzzle Together on the High Seas! Hoist your anchor and prepare to puzzle–join Puzzle Pirates and become part of a thriving pirate world! Puzzle with crews of other players to loot and pillage! Customize your garb, home and ship! Adventure in a vast world filled with pirates, treasure and puzzles!) on iPad & iPhone. GET IT NOW FOR FREE

 
Monsters Invade: Oz – Price : FREE – Publisher –

LittleBox

 (Capture, Collect and Battle over 100 unique monsters! Only you can stop the Wicked Witch and save the world of Oz! Remove her wicked spell and train the monsters under her control. Explore six worlds to discover and battle over 100 monsters. Use your expert fighting skills to gain new attacks, level up, evolve and more. Complete quests to gain power and bring peace to the land.

) runs on iPad & iPhone.

GET IT NOW FOR FREE

 
Kingdom Conquest II – Price : FREE – Publisher –

SEGA

 (Kingdom Conquest II is an epic free-to-play strategy game blending the best of card battling, strategy, MMORPGs, and 3D action to deliver an addictive fantasy game.

) runs on iPad & iPhone.

GET IT NOW FOR FREE

 
Arcane Empires – Price : FREE – Publisher –

Kabam

 (Join thousands worldwide in the hottest new strategy game by Kabam! Friendship and alliance awaits you in the world of Arcane Empires! In the midst of a brutal civil war, you and your countrymen have at last secured your independence from the merciless Korassian Empire. The weakened imperial forces, led by Prince Dessen, attempt to regain control of the realm and enslave the population. Build up your city to protect your people and your freedom!

) runs on iPad & iPhone.

GET IT NOW FOR FREE

 
Destiny Defense: Angel or Devil 2 – Price : FREE – Publisher –

Morisoft

 (120 amazing levels to beat across impressive 8 chapters. 8 powerful bosses / 12 different units each side (Angel,Devil) Special commander unit: each side has the commander unit and you can control the commander to win the battle. Gorgeous graphics make you experience the real numerous battle fields.

) runs on iPad & iPhone.

GET IT NOW FOR FREE

 

Kingdom Clash – Price : FREE – Publisher – FireMocha (Vanquish your enemies and expand your Kingdom in this FREE strategy game! Lead your armies against other players and defeat the evil forces of the Iron Swarm. Rule your Kingdom, build your armies, and defend your Stronghold with unique weaponry!) on iPad & iPhone. GET IT NOW FOR FREE

 
Leaping Legend – Price : FREE – Publisher –

Everplay

 (Leaping Legend is a fast-paced arcade styled endless climber where your goal is to reach for glory by climbing, leaping, and surviving for as long as possible! Dodge obstacles like a champion or die trying. The choice is yours! Encounter not-so-unfamiliar heroes and enemies, avoid taking arrows to the knee, and prove that YOLO is a myth!

) runs on iPad & iPhone.

GET IT NOW FOR FREE

 

Eden to Green – Price : FREE – Publisher – Zynga (The machines have invaded the beautiful planet of Eden!
Alien machines have come to steal the natural resources of Eden. They've all but completely destroyed Eden and there are only a small handful of plants and trees left alive. Euphoria, the natural energy of Eden needed for life to survive is dwindling fast.) on iPhone & iPad. GET IT NOW FOR FREE
For The Bargain Hunters – 99c Games
| | |
| --- | --- |
|   | Gloomy Hollow – Price : $0.99 – Publisher – Chillingo (Welcome to Gloomy Hollow, a haunted home for lost souls out in the outback of the Underworld. Lead a misfit trio on an epic quest to defeat the Underworld's beasts and fiends to turn this troubled town back into the lively limbo it once was.) runs on iPhone & iPad. BUY NOW |
|   | Where's My Mickey – Price : $0.99 – Publisher – Disney (Where's My Mickey? introduces a whole new world of life-like physics-based gameplay with stimulating weather mechanics and humorous animations. Immerse yourself in the ultimate mobile gaming experience as you watch funny episodes while solving challenging puzzles! Tap, swipe, and swirl to help Mickey collect water and complete each story. Every drop counts!) runs on iPad & iPhone. BUY NOW |
|   | Monster University – Price : $0.99 – Publisher – Disney (Let the scary out in 2 exciting mini games based on the Disney•Pixar film "Monsters University," and prove you're the ultimate scarer! Prep for more Scare Games to come in future updates!) runs on iPhone & iPad. BUY NOW |
|   | Icebreakers: A Viking Voyage – Price : $0.99 – Publisher – Rovio Stars (An icy wind has swept the Vikings away, leaving them stranded throughout the land and surrounded by trolls, deadly traps, dangerous enemies, and worst of all… troll snot! Now it's up to you to save them! Use your icebreaking skills to solve puzzles and cut your way through ice, rope, cannons, explosives, slime and… err… chickens to get your clan back safely to the Viking longboat!) runs on iPhone & iPad. BUY NOW |
For The Millionaires – All games over $0.99
 

MasterAbbott's over 99c Pick Of The Week!

XCOM: Enemy Unknown – Price : $20.99  – Publisher – 2K Games (Threatened by an unknown enemy, Earth's governments unite to form an elite paramilitary organization, known as XCOM. As the commander of XCOM, you must create a fully operational base, research alien technologies, plan combat missions, and lead your soldiers in fierce battles against a terrifying alien invasion. The decisions you make will affect the fate of humanity. You are our last hope.) runs on iPhone & iPad. BUY NOW

 

Home – a Unique Horror Adventure – Price : $2.99  – Publisher – Benjamin Rivers (Home is a unique horror adventure set in a beautifully-realized pixel world. It's a murder mystery with a twist—because you decide what ultimately happens. Awakened by an oncoming storm, you open your eyes to discover yourself in a strange, dark room—tucked away in a house that's not yours. As you play the game, it changes—subtly, almost imperceptibly—to reflect your perspective. It's a horror game unlike any other, and as you'll discover, its truths are entirely subjective.) runs on iPhone & iPad. BUY NOW

 
PLAY-DOH Create ABCs – Price : $7.49 – Publisher –

Playdate Digital

 (Learn your ABCs using 'virtual' PLAY-DOH modeling compound with this delightfully interactive educational app! PLAY-DOH Create ABCs application is designed to help children develop the essential skills required for reading and writing. Using this app, children will learn to: recognize letters, write letters using proper stroke order and associate letters with sounds.

) runs on iPad.

BUY NOW

 
Pilot Brothers 2 – Price : $1.99 – Publisher –

G5 Entertainment

 (Solve a particularly hairy case with Brother Chief and Brother Colleague! The Pilot Brothers' cat Arsenic has been kidnapped by Experimental Chef Sumo! Now the famed duo must track down Arsenic before he's served with French fries.) runs iPad & iPhone. BUY NOW
 

Rivals for Catan – Price : $4.49  – Publisher – USM (This exciting Catan card game challenges you to rule a realm on Catan. Construct cities and settlements, build ships and roads, and hire heroes to outplay your opponents!) runs on iPhone & iPad. BUY NOW
There you have it folks these games should keep you busy for quite some time well until next week at least. I'll be back next week for another dose of iOS goodness, in the meantime if you would also like to suggest your own suggestions, please feel free to share them in the comments section below or in the iOS forum section on the site here.
Remember kids, Play Hard Or Don't Play At All!