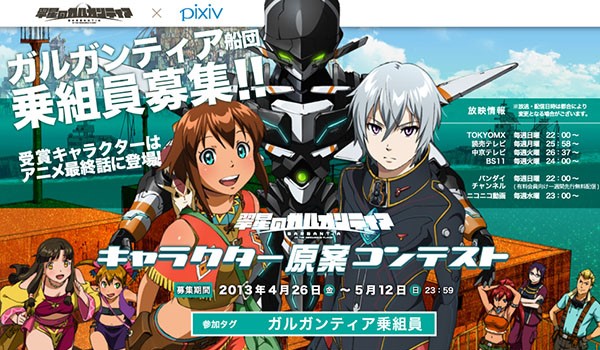 Currently airing anime series Gargantia on the Verdurous Planet has a character design competition courtesy of Japanese art website pixiv. Artists who think they have what it takes can submit their design of a crew member on the Gargantia ship who will make an appearance on the show's last episode.
The art entries will be judged by the anime's director Kazuya Murata and the studio Production I.G. The lucky winner also gets a bundle of Gargantia merchandise as well.
Contestants must be members of pixiv and have to tag their submissions with "ガルガンティア乗組員" – meaning Gargantia Crew. Entries must be submitted by May 12 11:59p.m. and the site has posted all the rules to the contest here, albeit in Japanese.
To get an idea of what you're up against, the official page is posting entries that are already submitted by artists.
Known as Suisei no Gargantia by its Japanese title, the anime series is currently being streamed by Crunchyroll and its Blu-ray box sets are up for pre-order on Japanese stores with English subtitles.
Check out my first impressions of this sci-fi series here.