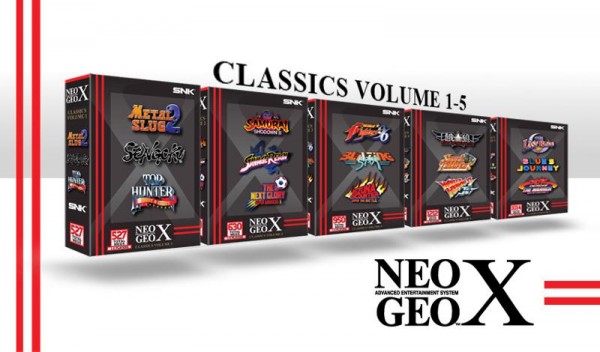 While the newest batch of game for NEOGEO X from SNK Playmore had previously been expected to release in April, it has now been announced that the NEOGEO X Classics will be arriving on June 25th 2013 thanks to the partnership between SNK Playmore and Tommo Inc.
Featuring 3 classic games each, they will release in volumes 1-5 for a total of 15 games to be added to those NEOGEO X fans looking to bump up their game count. While visible in the image above for even easier reading, players can find which volumes have which games here:
Vol I     – Sengoku, Metal Slug 2, and Top Hunter: Roddy and Cathy
Vol II   – Samurai Shodown 3, Savage Reign, and Super Sidekicks 3
Vol III – The King of Fighters '96, Blazing Star, and Kizuna Encounter
Vol IV  – Garou: Mark of the Wolves, Shock Troopers, and World Heroes 2 Jet
Vol V    – The Last Blade, Blue's Journey, and Art of Fighting 3
But, if interested players should be wanting to get all 15 games anyway, they can skip having to buy the individual Classic Volumes and instead pick up the Mega Pack Volume 1, which includes all of them on a single game card and bonus items. Even better going with either option will also get the Rocket Cable for fast charging, as well as System Update 1.0.
Those interested in the United States can pre-order now from amazon.com, gamestop.com, and bestsku.com. Pre-orders for Canada will be opening soon through EB Canada, Future Shop, and Best Buy, with more online retailers for all regions on the way. Please visit www.NEOGEOX.com for the latest info.