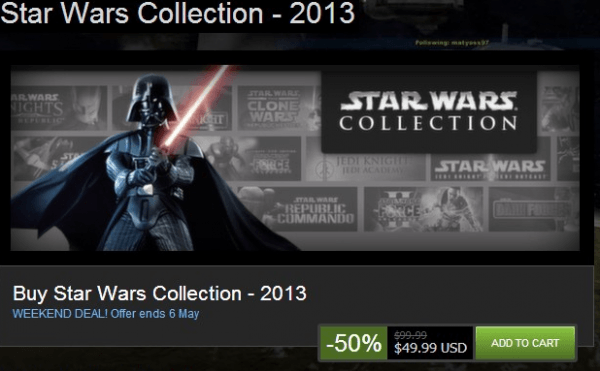 May the 4th be with you! There are tons of Star Wars themed sales this week in celebration of May 4th, so let's get to it!
Steam is leading the charge this week with all Star Wars franchise titles having 66% knocked off their regular price. For the exceptionally brave, the already discounted Star Wars Collection is 50% off. If you must choose a few Star Wars titles, I highly recommend Star Wars: Knights of the Old Republic and its sequel for RPG fans. I also have a huge soft spot for Jedi Knight: Jedi Academy. I really enjoyed the ability to customize your own Jedi, including lightsaber and combat styles.
Star Wars isn't the only sale on Steam this week. Tomb Raider is 50% off. It's an excellent price for a good game, though the most frugal gamers should wait as Greenman Gaming has had it for 50% off with an additional 20% off coupon in the past. Be sure to check out our review of Tomb Raider if you haven't made up your mind. Additionally, 4 Elements, Closure, Snapshot, Retrovirus, Sol Survivor, Legendary, Nikopol: Secrets of the Immortals, BC Kings, Puzzle Kingdoms, Stealth Bastard Deluxe, and Cave Story+ are all on sale as part of Steam's Week Long Deals.
Greenman Gaming is running several themed deals this weekend. Several newly released titles are 30% off with the coupon GMG30-BH67J-TILO5. Interesting titles include BioShock Infinite and its season pass, Dead Island Riptide, Defiance and its Digital Deluxe Edition, and Far Cry 3 Blood Dragon. If you plan on purchasing Defiance, I recommend sticking to the regular edition unless you plan on using the included boosts heavily. I highly recommend the game, as I've sunk many enjoyable hours into the game. Be sure to check out our review of Far Cry 3 Blood Dragon, Bioshock Infinite, Defiance, and Dead Island Riptide if you are considering a purchase.
Finally, GMG is running a Bethesda Deal this weekend. GMG has knocked down the prices of Skyrim, Dishonored, and both games' DLC by 50% off. This is one of the cheapest prices for the Dragonborn DLC so far, so if you've missed previous 50% off sales, it is a good time to buy now. The new Dishonored DLC, The Knife of Dunwall, is not included in this sale. Unfortunately, GMG's 20% off coupon, GMG20-GGN5D-FC3NA, will not work for this sale.
GamersGate's Spring Sale extends into its second week with new deals every day and several bundles deeply discounted. There are single titles discounted by around 50% throughout the whole event, but these can be easily ignored for the much better daily and bundled deals. I highly recommend the Deus Ex Collection which contains all the Deus Ex games and DLC. The original Deus Ex is a classic must play title. Fans of open world games should check out the Just Cause Collection for 75% off. The games play a bit like a wacky action film, but are incredibly fun. The open beta weekends for Just Cause 2 Multiplayer Mod really extends the life of Just Cause 2.
Get Games is running a Lego themed sale this weekend. Several Lego titles including Lego The Lord of the Rings and Lego Harry Potter are 50% off. Might & Magic Heroes games are also 50% off right now. I highly recommend puzzle fans pick up Clash of Heroes. The game was originally released for the Nintendo DS and has received HD graphics for the PC release.
Gamefly has a 20% off coupon for May, GFDMAY20, that works on many titles including several on sale. The Witcher 1& 2 bundle is on sale for $9.59 with the coupon. I highly recommend the series for hard core RPG fans. The world is well crafted and can easily take up many hours of time. The Risen series is also on sale for $9.99 with the coupon code. Risen 1 is a little rough on the edges, but fans of action RPGs who are looking to escape Skyrim for a while will have fun with Risen's pirate themed world. GameFly also has several Star Wars themed games on sale in celebration of May the 4th. The coupon code works with these titles, knocking some prices lower than Steam's. Strategy and sim fans haven't been left out of the cold. Omerta: City of Gangsters and Port Royale 3: Pirates and Merchants have been bundled together and put on sale for $19.99.
Amazon is running a large Codemasters publisher sale this weekend. The best deal is the Codemaster Action Pack containing seven games is only sale for 77% off. The pack contains Overlord 1 and 2, game full of British humour and evil minions to command. I highly recommend checking those two titles out if you are looking for a laid back but fun hack 'n slash.