When it comes to the Australian Anime Industry, Madman Entertainment is undoubtedly the top-dog down under. With a multitude of events coming up, such as the recently announced REEL Anime 2013 festival, the Madman Cosplay Championship and of course the Evangelion Exhibition, we took the chance to speak with Product Manager at Madman Entertainment, Sylvester 'Sly' Ip about the upcoming events, Madman itself and the anime industry as a whole.
---
CC: Madman Entertainment is regarded by and large as the top anime company within Australia. What do you feel has contributed most to Madman's success in the industry?
Sly: There are a plenty of factors – but first and foremost, we have spent many years acquiring a great and broad catalogue and we've been smart and innovative in our approach at bringing it to market. This has in turn developed a bond with our fans and a high level of trust with our licensors. It's an important cycle, and one that needs to be constantly kept in check.
Crucially though, we have spent a huge amount of our time communicating and connecting with fans and the broader community all over the country. We've worked our butts off for the better part of two decades to bring them new and exciting things, and to give them choice and satisfaction when it comes to product.
And it's because we are all fans in the first place that they're the most important thing to us, and the reason we love what we do.
CC: Madman has been the number one anime company in Australia for quite some time now. What kind of responsibility do you feel comes with being the top dog in the industry?
S: We have a responsibility to continue to keep the market growing in new directions and to offer new experiences. While it is incredibly important for us to be able to keep the current fans happy and stay true to our roots, we also need to embrace and feed new audiences for the sake of the expanding the category and to support an open and welcoming culture that caters to both.
CC: What do you feel sets Madman apart from other companies in the anime industry like Siren Visual and Hanabee?
S: Firstly, the depth of our catalogue and, of course, substantially more years in the game. We have a hard-earned retail presence throughout Australia and New Zealand for our products and an established fan base who enjoy what we offer and know that Madman is synonymous with anime culture.
But also the ability to innovate, and to grow and contribute to the culture we love so much. We have invested across a myriad of experiences over the years outside of just DVD and manga distribution/sales for the sake of the culture alone – including theatrical screenings, online streaming & simulcast, sales of properties to TV networks, cultural & community events and so much more.
CC: In recent years Madman has released an increasing amount of subtitled-only products. What are the benefits of such releases in comparison to a dual audio release?
S: The immediate benefit is obvious – the consumer can get their hands on new content from Japan in a much shorter amount of time, such as NICHIJOU, GOSICK and CODE GEASS: AKITO THE EXILED. But we always prefer to release titles with a dual language option to give fans maximum choice, so we will always strive to do this where possible.

CC: Legal streaming and simulcasting has really revolutionized the way people watch anime. With websites like Crunchyroll being a popular destination to watch anime legally online and of course the success of the Madman Screening Room, how important do you feel streaming is to the future of the anime industry?
S: It will continue to be an important area of focus for us moving forward, as I'm sure it will be for any right-minded entertainment company. Simulcasting is such a great way to satiate fans hungry for new content. And the Screening Room series runs in general are an excellent alternative to broadcast, or catch-up TV, if you will.
We also have a lot going on in the background with digital offerings for anime across a number of platforms and providers. We're already on iTunes and the PSN store, plus a few others I think – so that will continue to develop.
At the end of the day, we will go where our fans go – but there is still a huge demand for packaged goods, and this remains our priority for the interim.
CC: Many attribute legal steaming and simulcasting with having made a significant impact in combating the illegal piracy scene. What are you thoughts on the issue of piracy? Do you believe legal streaming is an effective way to counteract this problem?
S: Piracy will always be a problem and it is especially challenging in the entertainment industry, as consumers are demanding to see shows quicker than ever before thanks to the internet and social media.
But yes, absolutely, I believe that if they can satisfy their hunger with a few free episodes on the Screening Room; or have the opportunity to sit down with a simulcast event, then there is less need for them to go to the torrents.
The way people consume entertainment content – especially niche content like anime – has changed so dramatically in the past 5 years that it's still early days in terms of a real measure of success. Although I believe that we're keeping up with demand for the most part, and we're always trying our best to deliver content to fans as best we can and as quickly as we can.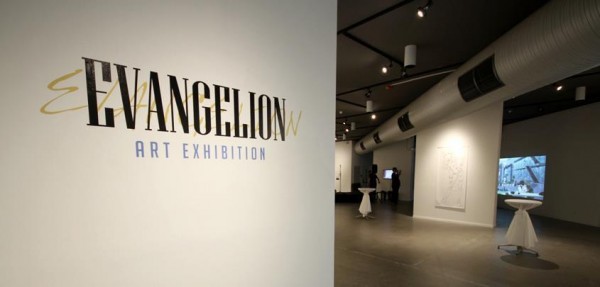 CC: Madman is involved with a number of different anime related events in Australia. It was recently announced that Madman would be bring the Evangelion Exhibition to Australia. Could you tell us a little about this exhibition?
S: Certainly! We're right in the middle of it now and it's all pretty exciting.
This is the first time that we have brought anything like this to Australia, and it's such a great way to offer fans a new experience that is still familiar. The EVANGELION exhibition itself showcases a number of original drawings and artworks used to create the new films, direct from some of the top artists who have worked on the film. It gives fans of the anime, as well as animation students and enthusiasts in general, a great way to see the supreme artistry that goes into creating Japanese animated features.
Oh, and there is also sweet loot! We are selling exclusive merchandise at each exhibition that has not been available outside of Japan before.
There is a big move towards doing exhibition tours like this in Japan so hopefully we'll be able to do it more regularly!
CC: Evangelion is a series that has an incredibly loyal fanbase. What do you believe has made the Evangelion franchise so endearing to anime fans?
S: Australia has a particularly strong love affair with the series, which is primarily thanks to a fan base that grew up watching the series on SBS in the late '90s. In its original, episodic form, with the promise of an epic battle each week, NEON GENESIS EVANGELION was truly event TV at the time. For many Australians, it was THE moment they discovered the joys of anime.
In fact, the NGE series was also amongst our earliest of commercial releases – with dubbed and subbed volumes issued on VHS in 1998/1999, I think – and since then, has remained one of our best-selling properties. So this contributes to overall nostalgia surrounding this era. Combined with the excitement for the epic new feature length additions and you have a pretty substantial and irresistible offering for fans old and new.
There are eminently relatable themes of love, loss, growing up, relationships and friendships, all piled on top of the burden of having to save the world from a constant apocalyptic threat, which gave way to a tapestry of psychologically complex characters, who are still analysed and debated today.
Each of the characters are unique, and the Eva and Angel designs are so strikingly original, artistic and now iconic. I think these things all make NGE and EVANGELION a one of a kind, compelling and endearing experience that will live a long while yet.

CC: The second Evangelion movie, Evangelion 2.0: You Can [Not] Advance, was part of Madman's REEL Anime Film Festival back in 2010. Will Australian Evangelion fans get a chance to see the third film in the series on the silver screen?
S: They certainly will. The third film – EVANGELION 3.0 YOU CAN (NOT) REDO will be coming to cinemas later this year, headlining REEL ANIME 2013. We can (not) contain our excitement!
CC: Speaking of REEL Anime, when can we expect to see the next festival? Any hints as to what films may be on show?
S: As many of your readers will be aware, we have now also revealed the second film in the program – 009 RE: CYBORG – which will be the first anime feature screen in Australia in stereoscopic 3D.
We will be revealing the other films and dates for REEL ANIME 2013 in a few months at each of the Supanova Expo events in Sydney and Perth. You can also check back to reelanime.com for all the latest updates.
This year also marks the first year that REEL ANIME will run as an annual event, which is pretty gratifying for us. The response from the public has been so positive over the last few programs, and the content so strong, we just couldn't wait another year to bring it back.
We are also currently exploring the idea of expanding out the REEL ANIME offering this year by arranging REEL ANIME-branded events in theatres as one-off / one day only screenings – much like what we did with the Madoka Magica film screenings last year – for films that don't make it into the official REEL ANIME program. If it works, it'll be a great way for us to get anime up on the big screen more often.
CC: Australia is home to a bustling Cosplay community. Conventions such as SMASH! and Manifest are a great place for Cosplayers to show off their efforts. It goes without saying that Cosplay is a passion for many anime fans, so what does Cosplay mean to Madman?
S: We see Cosplay as a spectacular and truly liberating form of expression. Even though they might harbour the same feelings, as a fan, it's not always easy to communicate your love and connection to a piece of pop-culture with the general public. The Cosplay community in general are embracing of pretty much anyone's passions – so in that sense, we see it as a really supportive and positive thing.
There's that true community spirit where we're always seeing Cosplayers helping each other out and encouraging one another to do better – it gives us inspiration and also encourages us to do everything we can to help it continue to thrive.
We are also frequently awe-inspired by the sheer amount of skill and professionalism on display in the Australian community.

CC: Could you tell us about the Madman National Cosplay Championship and what this means for Aussie Cosplayers?
S: The MNCC has really enabled us to give something back to the community, reward those that are really serious about their craft and let everyone around Australia and the world know that we have some world class competitors.
Serious Cosplayers of Australia are now able to get the spotlight they truly deserve, and compete in a fastidiously organised contest that recognises and rewards their efforts on a grand scale.
We will continue to offer the major prize of a trip for two to Japan in the main category – but we will also be expanding into other areas soon, including more tutorials and also an online community for cosplayers via Google+.
CC: How important do you feel anime conventions are for the Australian anime industry?
S: They give companies like us regular opportunities to connect with our audience directly, move some products, allow us to showcase exciting content and news in a live setting and get their feedback on what we do – so, of course, they're pretty vital to a significant portion of our business.
But most importantly, they're crucial to the development of our local fan community. It's equally important for us to have a calendar of unique and interesting events going on as it is to make sales – like signings & appearances, screenings, panels, Q&As and more. Each year, we see more and more non-traditional folk turning up at conventions not knowing what to expect and leaving with a huge smile on their faces, which makes it all worthwhile.
Plus, they're just a lot of fun. We'd be going to them if we didn't have to work there. Even then, a lot of the time, it doesn't feel like work!
CC: What can we expect in the future from Madman Entertainment?
S: Continuing to do what we do best – offering lots more great releases, more events, more Cosplay and being able to continue to truly deliver our motto of by fans for fans. We will continue to grow the fan community in any way we can, so that more and more people will come to love and accept anime.
I dare say there will be one or two surprises along the way too.
CC: What do you think of the current state of the Australia Anime Industry and where it is headed?
S: The Australian industry is still amongst the strongest in the world outside of Japan. We've seen a marked increase in the competitor space in the last year or two, which is always healthy, as it keeps us on our toes and ensures the community are getting a few more options when it comes to products.
A greater shift towards digital is inevitable, but for the foreseeable future, there will continue to be a demand for something physical.
CC: Is there anything you'd like to say to Madman fans reading this?
S: Thank you for your continued support over the past 15+ years. Without you, we couldn't have achieved half the things we have done. We will continue to be the best anime company we can be and offer you easy access to the things that you love.
CC: Thank you for your time.
---
That concludes our interview with Sylvester 'Sly' Ip of Madman Entertainment. You find more information on the Evangelion Exhibition here, more information on REEL Anime 2013 here and of course more information of the Madman Cosplay Competition here. Let us know what you thought of this interview in the comments section below.