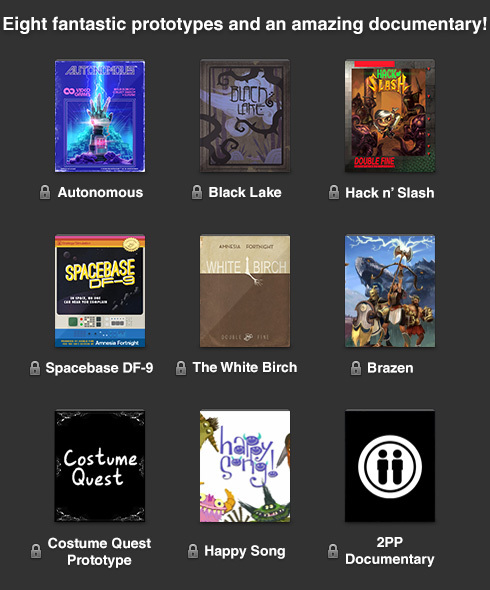 Double Fine sweetened the deal for The Humble Double Fine Bundle by added eight prototypes for Windows that was created during Amnesia Fortnight 2012 along with the 2 Player Productions documentary on the event. These bonuses are only available for those who beat the average price for the bundle.
For those unfamiliar with Double Fine Production's Amnesia Fortnight, the event is held yearly to help foster new game ideas for the company. Hits like Costume Quest and Stacking began as prototypes made during the first Amnesia Fortnight. These days, Amnesia Fortnight is held in conjunction with the team at Humble Bundle to raise money for charity.
The Humble Double Fine Bundle contains Psychonauts, Costume Quest, and Stacking for all buyers. Those who beat the average will also get the eight prototypes, the documentary, and Brutal Legend. By paying at least $35.00, buyers will also pre-order the upcoming adventure game Broken Age. Buyers who pay more than $75 will also get a black or cream t-shirt with worldwide shipping.