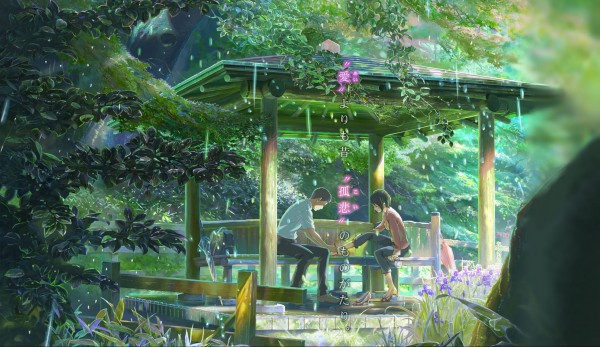 Sentai Filmworks has picked up the license for Makoto Shinkai's new artistic piece: The Garden of Words. This grab will definitely please the fans of Mr Shinkai's work, Sentai Filmworks doesn't usually slack too much with it's licenses. For those of you who don't know Makoto Shinkai he's the man behind such films as; Children Who Chase Lost Voices, The Place Promised in Our Early Days and a bunch more. He's a pretty big deal. As usual the film will be available soon through selected digital outlets and with a home video release on bilingual Blu-ray and DVD later on this year. The anime feature starts its theatrical run in Japan on the 31st of May.
If you want to get in early on this release don't forget that in just a few days The Garden of Words get premiered at the Gold Coast Film Festival. Information as well as a trailer for the movie here.
Sentai's Official Description of the movie:
When Takao, a young high school student who dreams of becoming a shoe designer, decides to skip school one day in favor of sketching in a rainy garden, he has no idea how much his life will change when he encounters Yukino.  Older, but perhaps not as much wiser, she seems adrift in the world.  Despite the difference in their ages, they strike up an unusual relationship that unexpectedly continues and evolves, without planning, with random meetings that always occur in the same garden on each rainy day.  But the rainy season is coming to a close, and there are so many things still left unsaid and undone between them.  Will there be time left for Takao to put his feelings into actions and words?  Between the raindrops, between the calms in the storm, what will blossom in THE GARDEN OF WORDS?