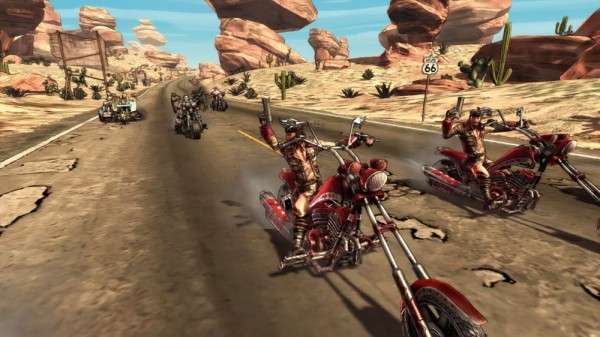 After releasing the trailer for the retail game for their new game universe, Deep Silver has finally put out a trailer for the arcade game due out this summer. Developed by Black Forest Games, Ride to Hell: Route 666 looks like an interesting title, focused not on the main character for Ride to Hell: Retribution, but instead an interesting combination of strategy and brawling, while riding a motorcycle.
If that combination sounds confusing to you, well you aren't alone, but thankfully with the new trailer it is easier to understand just how the game will work. While gameplay is a little limited, instead focusing on the games art and action, there are a few telling snippets of what to expect. Seems the game will task players will figuring out the ideal formations and biker types to place, then put the plan into action and dish out tickets for the gun show, both kinds, as they set out to conquer Route 66.
Players can check out the trailer for Ride to Hell: Route 666 embedded below and see how it looks and the little bit of how it'll play, to gear up for its release this summer for XBLA, PSN, and PC.