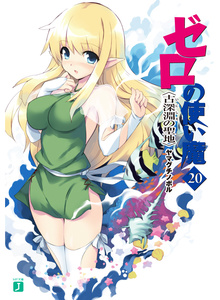 Some unfortunate news has come in through Media Factory's Taiji Misaka announcing that Noboru Yamaguchi the author of Zero no Tsukaima has tragically passed away this past week after a 2 year long struggle with cancer.
Yamaguchi was 41 at the time of his passing on April 4th, 2013. He leaves behind an impressive legacy of work that has spanned more than a decade since his debut in 2000. 4 years after his debut he began what would become his magnum opus, Zero no Tsukaima (also known as Familiar of Zero). Since it began Zero no Tsukaima light novel series has spanned a collective 20 volumes and five side-stories. It has also managed to spawn 4 anime series based upon it, the last of which aired as recently as 2012.
Back in 2011, Yamaguchi confirmed to his fans that he had advanced staged cancer which was said to be inoperable. Following this initial diagnosis Yamaguchi was informed that his cancer could possibly be cured. He underwent surgery without incident. Unfortunately he would later return to hospital for yet another surgery.
He had originally planned to conclude the Zero no Tsukaima series on its 22nd v0lume in 2012, unfortunately due to Yamaguchi's passing the series will remain inconclusive at the existing 20 released volumes.
Yamaguchi did not stop fighting until the very end even vowing to continue working on the series "No matter what". Despite his efforts he was unable to complete the series before his untimely passing. His passion an love for his work was his life and he leaves behind a legacy that will not be forgotten. From all of us here at Capsule Computers, Rest in Peace Noboru Yamaguchi.