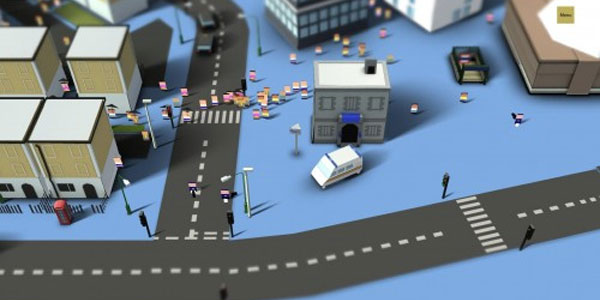 Yesterday, indie development studio Dot-Product announced plans for their newest title: Wildfire Worlds, which went up yesterday through the Steam Greenlight platform. The developers describe the project as a "riot simulator," and from the stills and videos it looks like the gameplay will resemble the likes of DarkSpore, RollerCoaster Tycoon3D and The Sims, with a little visual twist that makes it stand out somewhat above the rest.
The development team have described the world as "A cute paper toy society…See the inhabitants scuttle around…Now chuck a large spanner in there, and cause chaos."
The game is currently in the alpha stage of development, but buying a pre-order of the game now will give you instant access to the alpha build. To follow the progress of Dot-Product's newest title, you should pay a visit to both their blog and community forum.