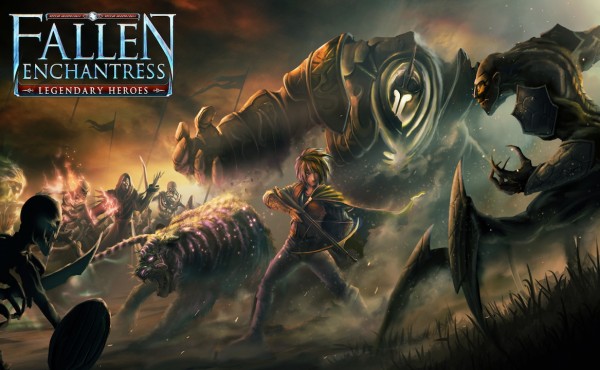 Fallen Enchantress – Legendary Heroes, the upcoming game by Stardock, is set to be released on May 22nd. The game will be released on Steam, with pre-orders pricing the game at $39.99. Owners of Fallen Enchantress (released back in late 2012) are able to upgrade their existing game  for $19.99 with a standalone expansion. Fans of Stardock's previous title Elemental: War of Magic, provided that they purchased the game before October 31st 2010, are able to receive Fallen Enchantress – Legendary heroes for free, as promised by Stardock way back when in the year of 2010.
Legendary Heroes is said to build upon the successes of Stardock's previous Fallen Enchantress title whilst also addressing some of fan's concerns. It is set to add new monsters (including Liches and Banshees), more spells (such as "Wall of Fire" and "Raise Horde") new champions, larger maps, new tactical battle maps and is also said to re-imagine the role of heroes in the world of Elemental.
Fallen Enchantress: Legendary Heroes is an expansion to Stardock's popular Fallen Enchantress fantasy strategy game. The world of Elemental needs your help, the Fallen Enchantress seeks to destroy the fragile civilizations that have arisen from the ashes of the cataclysm. Fortunately, your fame has spread far and wide attracting the great heroes to aid you.
As with all Stardock games, Legendary Heroes will not require an expensive PC set up and can be played on relatively low end systems. The game requires a minimum:
• OS: Windows 8 / 7 SP1 / Vista SP2 / XP SP3

• Processor: 2.4 GHz Processor

• Memory: 1 GB RAM

• Graphics: 256 MB DirectX 9.0c Compliant Video Card w/Pixel Shader 2.0 (Radeon x1600 / GeForce 6800)

• DirectX®: 9.0c

• Hard Drive: 5 GB HD space

• Sound: DirectX 9.0c Compatible Sound Card

• Additional: To activate this game you must create a Stardock account while launching the game
For more information, check out the Elemental homepage.