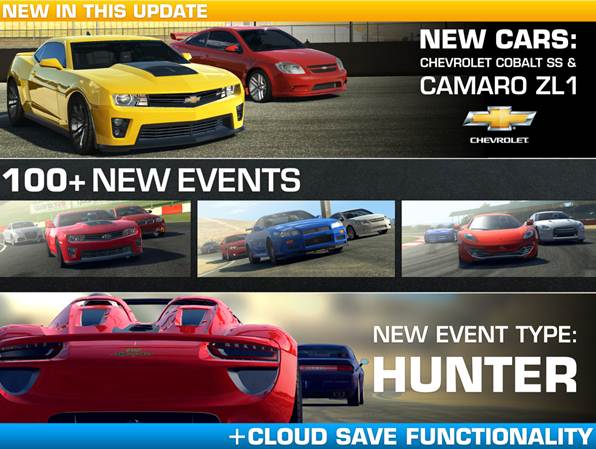 The first content update for Real Racing 3 (review here) is now live, and it's focused on bringing the Chevrolet into the title for the first time.
The 'Chevrolet update' as I'm calling it introduces the Chevrolet Cobalt SS, Chevrolet Camaro ZL1,three new race series, 100+ new events and the chance to chase down and race your opponents in a new one-on-one 'hunter' race mode. Aussie developer Firemonkeys have also enabled the ability to transfer your cloud save data across multiple devices. And you can now compare race statistics with your friends in a  new leaderboard.
Tony Lay, Executive Producer at EA's Firemonkeys Studio said;
"We were delighted to hear that our community has asked for the inclusion of Chevy cars in the newest Real Racing game. Chevy has always been a key partner for Real Racing 2 and we are excited to have them back to provide realistic, fun-to-race cars for Real Racing 3."
Download the update right now from the App Store and Google Play. If you haven't downloaded Real Racing 3 yet (which is free!), you can do so here.