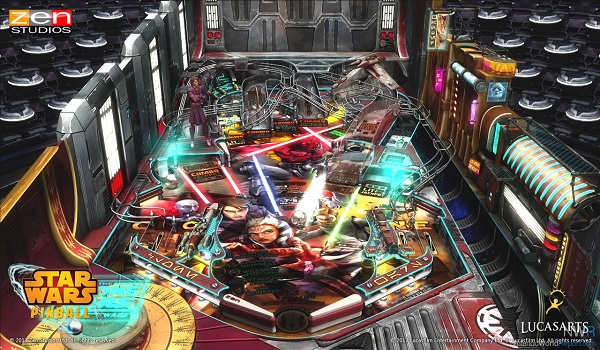 If you've been eagerly awaiting the arrival of Star Wars Pinball then wait no longer! The dark forces or clumsy Jawas or some other essential Star Wars reference have let up their interference that seemed to cause some rather shady delays with the final product being realised, with the title now available on the iTunes store.
Star Wars Pinball is available for $1.99 and has the very cool feature of having both Dark Side and Light Side table differences depending on your actions in the game and how you choose to play. The score that you rack up will go towards that particular side and eventually will even begin to alter and warp your user interface based on the number of points for the different sides of the Force. Buying Star Wars Pinball will also entitle you to a bonus Star Wars Episode V: The Empire Strikes Back tabletop, with extra tops featuring Boba Fett and Star Wars: The Clone Wars available as in-app purchases.
You can find out more info on the game over on their official website here, and I totally won't even close off with the annoyingly obligatory line that follows every Star Wars article.
May the Force be with you…
Dammit.
Regardless, feel free to see our own thoughts on the game here.