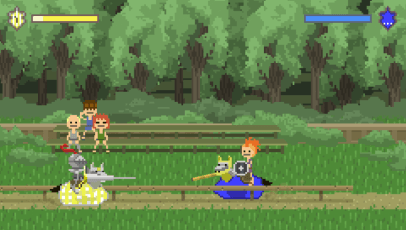 Evelend Games' new pixelated twist on the classic story of the chivalrous knight is IndieGameStand's latest 96 hour pay what you want game deal. Pixelry is the jousting RPG staring a young knight attempting to win the heart of Princess Arianna Annabelle di Grandigund Hyacinthe by winning her father's jousting tournament. The player will need to work his way up from being a novice jouster to conquering The Big 5, five undefeated knights. The game is presented in pixel heavy graphics reminiscent of early Lucas Arts and Sierra adventure games.
Purchasing Pixelry will provide access to the alpha game on Desura. A Kickstarter drive is in the works to help bring the game to a full release. Those who purchase Pixelry through IndieGameStand will receive the full version upon release.
10% of Pixelry's sales goes to support Open Source Ecology. Buy your copy of Pixelry here.