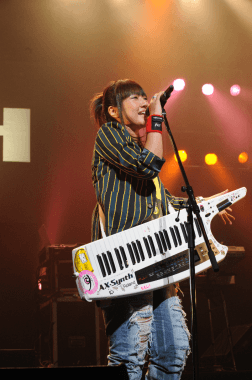 The first guest for the Sydney Manga and Anime Show convention has been confirmed to be voice actress and singer Haruko Momoi.
Haruko Momoi has played countless roles in anime, she is most well known for her performance as Feyris Nyanyan in popular science fiction anime series Steins;Gate. She has also known for her work in video-games with her role as Anise Tatlin in Tales of the Abyss being a clear standout on her impressive voice acting resume.
Having released more 10 albums and performed numerous anime OP and ED theme songs including the theme of My Bride is a Mermaid 'Romantic Summer', Momoi has also made her mark as a musician.
Fans affectionately refer to her as 'Halko' a name she coined herself based upon the character HAL 9000 from the film 2001: A Space Odyssey (one of her favourite films). You can take a look at Haruko's impressive work history here.
Haruko will be heading to SMASH! 2013 on August 10th. It is unknown at this point in time what capacity she will appear in. One can presume she will have her own panel like previous year's SMASH guests. It would certainly be interesting is she held a concert similar to what she has done in conventions such as Anime Expo in the United States.
We will of course keep you updated on all SMASH! news as it comes to light. For now feel free to take a look here for more information on SMASH! 2013.