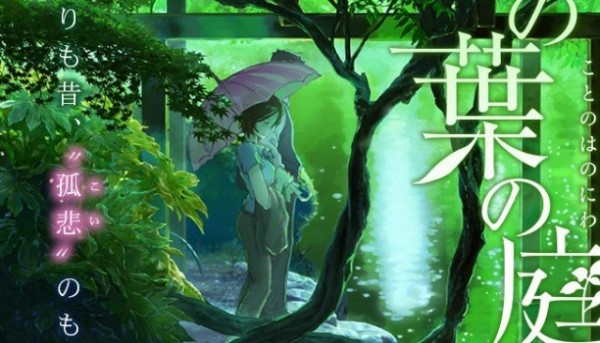 In what is slowly becoming an increasing trend, the Japanese home video release of the latest anime film by Makoto Shinkai will include English subtitles. This was revealed on its official website, known as Kotonoha no Niwa in Japan, along with the extras, features and price of the release.
The Blu-ray version will cost 6,090 yen (AUD$62) and will contain the original soundtrack along with an extra 90 minutes of bonus features such as interviews with the director and cast, a lengthy feature on Shinkai's unique filmography, a story board and the theatrical trailer. Buyers will also be treated to a 16-page booklet.
The DVD version will be priced at a much more attractive 3,360 yen (AUD$34) and comes in a slimmer package with the soundtrack, a short filmography feature and 30 minutes of extra footage containing the interviews and theatrical trailer.
The Garden of Words is one of Shinkai's shorter films at just 46 minutes and hits Japanese theaters on May 31, with the home release confirmed for June 21.
Makoto Shinkai's work has enjoyed widespread praise, with many referring to him as "the new Miyazaki". His previous attempts include Voices of a Distant Star, The Place Promised in Our Early Days, 5cm Per Second and the recent Children Who Chase Lost Voices. All made the cut and were licensed in Australia over the years.
The Garden of Words joins Japan's growing number of Blu-ray/DVD releases that include English subtitles, with titles such as Fate/Zero, Code Geass: Akito the Exiled and the upcoming Nanoha The Movie 2nd all containing what many consider a blessing.