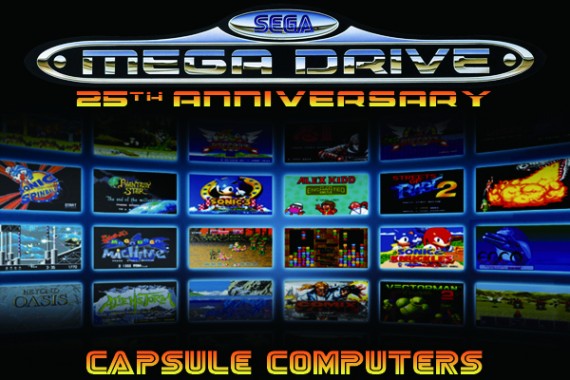 Going by the original Japanese launch date of October 1988, the Sega Mega Drive (Sega Genesis) turns 25 in 2013. It's an occasion worth celebrating, and what's pleasing is that the Mega Drive is a name that is still well known and relevant in the modern gaming scene. It certainly didn't suffer the same fate as consoles like the 3DO, Jaguar, and TurboGrafix, where modern gamers have to look up Wikipedia just to see what they were. The Mega Drive is a brand that is still instantly recognizable and alive, just hop on to Xbox Live/PSN/Steam today and you will find a wide selection of beautifully ported classics, many with added network functionality even.
The Mega Drive will forever be a reminder and representation of the true glory days of Sega. Their most iconic franchises were born on that platform, many of which became pop culture sensations. Classics such as Sonic the Hedgehog, Phantasy Star, Golden Axe, Streets of Rage, Outrun, and so many others come to mind when we think about the Mega Drive.
In this special feature article the Capsule Computers crew gather together to discuss all things Mega Drive (Genesis). Each of us discuss what the console meant to us, what made it so special, and our fond memories of course. Following that is a special podcast where we of course rant about the Mega Drive.
So without further ado, let's get this feature article going with some serious blast processing speed!
Click on the pages below:
Page 2: Jahanzeb Khan, Thomas Hellier, and Dustin Spencer
Page 3: Joe Morgan, Philip Federico, and Michael Marr
Page 4: Capsule Computers Podcast – Celebrating the 25th Anniversary of the Sega Mega Drive