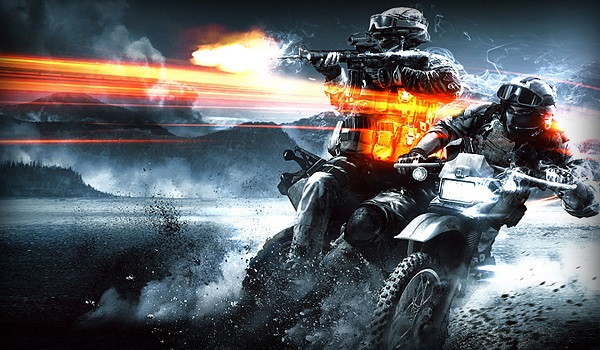 Parachuting out of jets a bore? Finding yourself wishing vehicles had two wheels instead of four? Realistic explosions just aren't sufficiently crazy enough? In case you thought Battlefield 3's multiplayer wasn't intense enough already, and boy is it already a huge thrill ride, then the new End Game Downloadable Content is here to solve all your problems.
Featuring a mass of extra content, the latest and greatest piece of downloadable content from DICE includes:
Four new gorgeously detailed maps (one for each season of the year)
A brand new two-person dirt bike to quickly get you and a partner in and out of trouble
Two stealthy AA vehicles for behind-enemy line deployment
An incredibly cool Dropship that can dispatch troops as well as anti-infantry vehicles mid-air
Two new game modes to the title, Capture the Flag and Air Superiority, a quick raid mode in which teams must steal the opposing side's flag and an awesome game type that lets players participate in huge, explosive dog fights
As well as five new assignments, 16 dog tags and 5 achievements/trophies
Battlefield 3: End Game continues the tradition of epic military engagements with realistic physics, weapons and vehicles. Players take part in massive battles across richly detailed fully-destructible environments in game types that ensure no match plays the same. Since it's launch in October of 2011, more than 20 million players have put their boots on the ground for an all-out-war experience like no other.
Out now on the Playstation 3 for Premium Members and releasing publicly on the same system on the 20th of March, End Game can also be found on the Xbox 360 and PC on March 13th for Premium Members and March 27th for everyone else. Ignore the annoyingly shameless promotion of Battlefield Premium in the first few seconds of the video and check out the rest of the jaw dropping trailer down below.