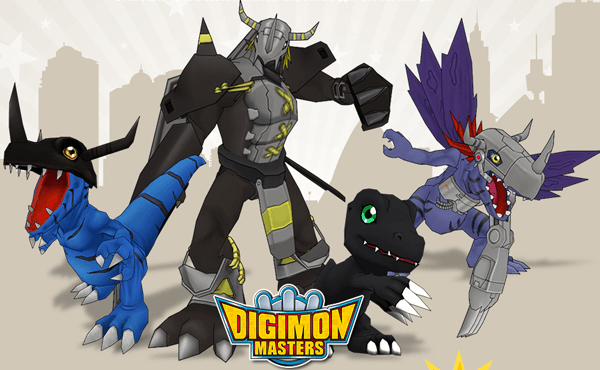 The Virus version of one of the first and most popular Digimon, Agumon, is now available to tame in  Joymax's free to play MMORPGs Digimon Masters!
Agumon(Black) is a Rookie-level Virus with stats and abilities similar to his brother Agumon. This Digimon's Champion form, Greymon(Black), has a blue body with grey markings and an all new Grey Tooth attack. Metal Greymon(Black), the Ultimate form, remains a Virus type and sports an  increasingly cybernetic body. He can crush his foes with the powerful Giga Destroyer and Megaton Punch attacks. The final, Mega form of the Black line, War Greymon(Black),   is a fully cybernetic creature and is armed with the furious Black Tornado and can unleash its devastating Dark Gaia Force attack like a fireball!
Digimon Masters is the first ever 3D online game based on the Digimon universe with over 1,000 characters featured from seasons 1 through 5 of the series and a plot that closely follows the original story. The game seamlessly combines pet training simulation with role-playing elements and real-time combat  to deliver a one of a kind gaming experience. Players can also become one of 8 Royal Knights, Digimon who are in charge of each area in the Digital World and have the right to impose taxes along with other perks and obligations.
As a special bonus, to celebrate the release of Agumon (Black), Dragon Mercenary DigiEggs are also available at 30% off. You can play the game (for free!) by following this link.