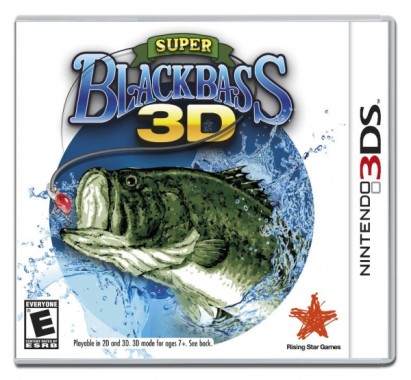 Video game publisher Rising Star Games announced today that Super Black Bass 3D will be landing on the 3DS platform on April 2, 2013 across North America.
The Black Bass franchise has 16 releases across 7 different platforms and their newest entry will bring it to the Nintendo 3DS as well.  Super Black Bass 3D will feature a host of new features and gameplay modes that are exclusive to the 3DS platform.
Amongst other features, Super Black Bass 3D will utilize the 3DS's built-in motion sensor and gyroscope to let you cast your lures.  With more than 30 kinds of fish to catch, different locations, and different weather patterns, Super Black Bass 3D will keep anglers coming back for more as they contend for the top spot on worldwide leaderboards.
Super Black Bass 3D's key features include:
Catch fish with 

Super Black Bass 3D'

s "Real Rod System" featuring realistic movement Controls

Using the motion sensor and gyroscope features of the 3DS to cast your line
Swing the 3DS to cast your line and then tug it towards you to reel in the fish

Multiple Game Modes:

Tournament – compete in fishing tournaments to test your skills
Free mode – fish at your leisure using the settings you like

Hundreds of fish to catch across various competitive locations
Changing conditions that affect your fishing: changing seasons, weather conditions, and time of day
Upgradeable fishing gear: sell your catches to buy new fishing gear that will improve your skills and catch bigger fish
Domestic / International rankings – Give yourself a Master of SBB alias and challenge fellow anglers from around the world:

Bass – who has caught the biggest bass
Other fish – who has caught the biggest non-bass
Tournament – who has the best results
Your pond – who has the biggest fish in their pond
Fish prints – which fish prints have you acquired

Closest experience to real fishing on the Nintendo 3DS
Longest running videogame fishing franchise