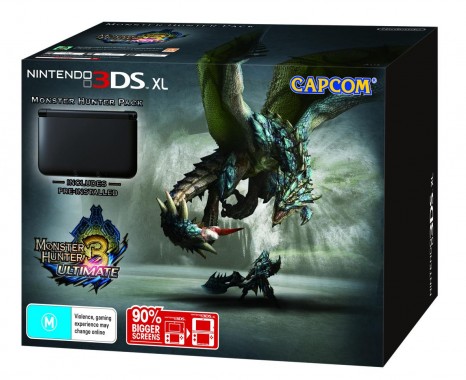 You probably know by now that Monster Hunter 3: Ultimate is coming very soon for the 3DS and Wii U, and features the ability to let players cross platforms with their characters. If you own one platform, but not the other – Nintendo and Capcom have some nice news for you.
Nintendo of Australia are releasing two bundles for the game, which are the Wii U Limited Edition Monster Hunter 3 Ultimate Premium Pack (that features a black Wii U console, a black Wii U Pro Controller, and a copy of the game) as well as a 3DS bundle for that version, which will come pre-installed on a black Nintendo 3DS XL.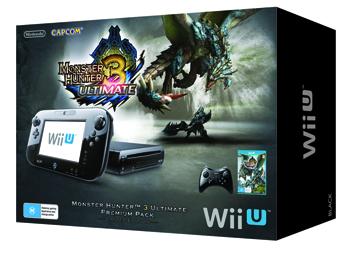 The Nintendo 3DS XL Circle Pad Pro for Nintendo 3DS XL, which offers an alternative control method for players of Monster Hunter 3 Ultimate and other selected Nintendo 3DS titles, will be also be launching in Australia and New Zealand on the 23rd of March, in addition to a Wii LAN Adapter which can be used to connect Wii or Wii U to a wired home network. Wii LAN Adapter will be available at retail and from Nintendo Australia customer service.
Pretty good news, I'd say, and a new color of the 3DS is born. Monster Hunter 3: Ultimate is due out March 23rd for the region and launching on the 19th of the same month in the states, so mark your calenders and get ready for the hunt.